The second hand record store bargain box dip rears its ugly head again…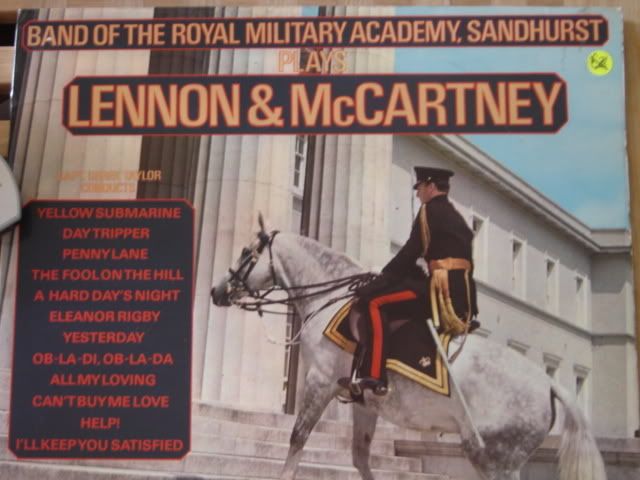 What: Band of the Royal Military Academy, Sandhurst: "…Plays Lennon and McCartney"

Label: Hallmark ("that's sure to be good!" – Half Man Half Biscuit)

Year of Release: 1972

Where: Wood Street Market, Upper Walthamstow, London

Cost: One pound
Obviously I know damn bloody well that The Beatles were a very successful and appreciated band, and therefore would not qualify for an entry in this blog, and I'm not about to make any ridiculous arguments to the contrary. Who do you think I am, Lady Heather Mills? The Band of the Royal Military Academy, Sandhurst, however (who challenge And You Will Know Us By The Trail of the Dead in the unwieldy band name stakes) have had rather less success, despite plugging away since 1813.
In all honesty, there's precious little I can say about this album apart from it sounds exactly how you'd imagine it to. Military music has never been a much-loved genre of mine, obsessed as it is with taut marching rhythms and precision over any sort of emotion or sense of adventure, and obviously BRMAS (if I may call them that) achieve the amazing feat of taking some wonderful, groundbreaking songs and sapping all the innovation and subtlety out of their very bones. "Penny Lane" sounds masculine, chest-beating and self-important rather than anything with any depth. Then again, so does "A Hard Day's Night". And "Yesterday". And "The Fool on the Hill". You can virtually
hear
the collective moustaches twitch with pride. The only real success on the album is "Day Tripper", which is jaunty enough to sound as if it's been snatched from the soundtrack of The Prisoner, but it still sounds like a bold declaration of intent rather than a cheerful pop song.
Of course, there have been so many absurd Beatles cover versions over the last 45 years that there are some people out there who collect pretty much nothing else. For my money, though, this is the
most
ridiculous, in that the clash of cultures is so overwhelming. It's so preposterous that it almost smacks of a joke, until you realize that the budget label Hallmark were never really very big on ironic discs, especially in the early seventies. I also don't know whether to applaud BRMAS for staying away from a lot of the more interesting covers they could have chosen ("A Day In The Life", "Happiness is a Warm Gun", or "Revolution") or slap the entire battalion for the missed opportunity for humour.
Oh, and according to the sleeve credits the bloke on the cover is Major D V Fanshawe of the Grenadier Guards, and he is "mounted on Thor". Just so you know. Don't ask me why he's heading into a building on the beast, though, or why in the name of blazes the title of the album has been set on the sleeve at a slightly wonky angle. It's enough to give the military a bad name.
Day Tripper:
http://www.megaupload.com/?d=5D4SAG05
Penny Lane:
http://www.megaupload.com/?d=L4X6RSVO