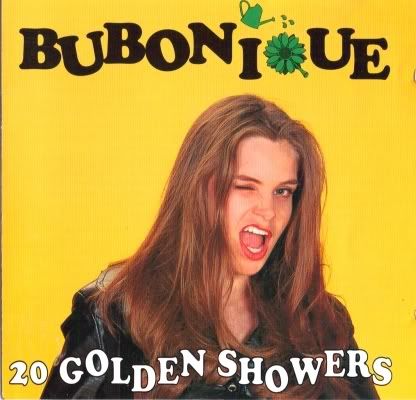 Label: Kitchenware
Year of Release: 1993
Way back in the early nineties when he was something more of a media darling and star than he is today (and could seemingly be found propping up the bar of every London gig you went to) the comedian Sean Hughes decided he wanted to make a record. This was at a time when Vic Reeves had recently hit the top spot with "Dizzy", and given the fact that Hughes regularly pranced around in front of the camera dancing to Morrissey and The Smiths on his series "Sean's Show", there was some speculation about what form his project might take. Would he cover the Mozmeister, perhaps, or do his own slightly doomy song in tribute to the great man?
In an interview in 1992 with the NME, it was revealed that he was recording with Cathal Coughlan of Microdisney and The Fatima Mansions, and speculation mounted. The fact that Sean revealed that he had mostly been improvising in the studio and could only remember singing "Play that funky music, Irish guy" should have thrown cold water over the entire thing, but there was still a lot of goodwill for the project. Coughlan was highly respected in the music press at this time for being a satirical maverick, and Hughes was also seen as being something of an emerging comedy genius, so the odds of a quality product seemed fairly high.
In the end, what we got was this. A fuzzy, lo-fi, scattershot, sprawling mess of an album which picked up good reviews, and was certainly startling and shocking enough to warrant a couple of listens, but was forgotten about quite quickly by everybody who came into contact with it. Porn and snuff movie samples jostle for space with Dave Lee Travis radio broadcasts (where he waffles about talented people working in bunkers away from the glare of the modern world), bizarre parodies of REM, Ice T and Guns and Roses, and frankly inexplicable jokes about necrophilia and fisting. The humour within seems considerably more Coughlan than Hughes, although reduced to crude basics rather than the "Swiftean satire" every music critic usually associated with him.
To make the album that bit more inaccessible, it was mastered as one long track so if you wanted to skip forward to particular parts of it, you had no choice but to hold down the "forward" button on your stereo, and on top of that the volume mastering was different at various points. During particularly quiet moments, a stinging blast of distortion sometimes kicks in so that any listener using headphones is forced to rip them off quickly. Please do consider yourselves warned about this aspect.
For anyone interested in the careers of either Cathal Coughlan or Sean Hughes, this CD has to be heard, but the balance between humour and self-indulgence is perhaps a bit amiss. The parodies, for example, are excellent, the GnR referencing "I Think You're Cool" hitting the nail firmly on the head, and the vicious REM mocking "East Sheep Station" doubtless being fuelled by Stipe's own misgivings about Coughlan's work (he once walked out of a Fatima Mansions gig snarling "I hate art rock bands", which was a rather unexpected criticism given some of REM's output). Beyond those, the obsession with bleak samples and strange in-jokes (who was Shak Parouk, for example?) have meant that this album doesn't really figure strongly on either artist's CV these days. You get the impression that it was something they had enormous fun producing, but didn't see as being an important piece of work.
They did, however, follow it up with another effort a couple of year's later. "Trance Arse Volume Three" parodied Blur in a track called "Oi Copper!", and was apparently otherwise more of the same. If anyone has a copy, I'd like to hear it. In the meantime, enjoy the link, all of you... but not the easily offended.
http://www.megaupload.com/?d=0653GOB8
Track Listing:
ACT I
1. Summer (The Fist Time)
2. I Think You're Cool
3. Play That Funky Music Irish Guy
4. Cop Lover
5. Codsucker Blues
6. My Baby Gave Me Rabies
7. Elvis '93 (You Can Fuck Elvis)

ACT II
8. Theme From "Chicken Arse"
9. Iron Child
10. Yoda Lady
11. Anytime, AnyPlace, It's Okay to Bubo With Shak Parouk
12. 2 J.G.
13. East Sheep Station
14. Love Me Deadly, Kiss Me Headley
15. DLT 666 No Idea (Insincere)
16. The Bubonique America's Top Ten
17. Frank is Frank (Hurry Up and Die, Buddy)
18. Jellypop Perky Jean
19. Dildo Neighbour
20. Ang On Ronno
21. Love Camp Seven
22. Nation of Bubonique
23. Closedown