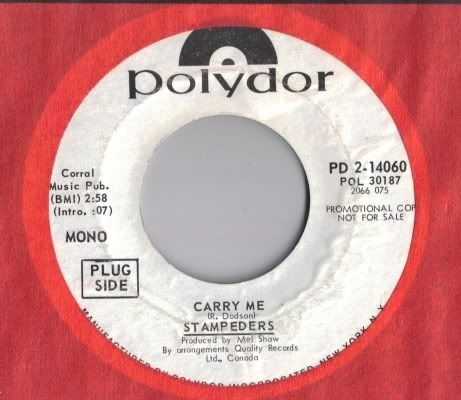 Who: The Stampeders
What: Carry Me (b/w"I Didn't Love You Anyhow")
Label: Polydor
Where: Music and Video Exchange, Camden High Street
Year of Release: 1971
Cost: One pound
Following the US Election I was desperately trying to think of a themed blog entry to put up. With a typical lack of foresight I'd wasted Mason Profitt's "Vote" months ago, so the best I could really do was this. It's a Canadian country rock band attempting their first serious shot at the American market, and failing completely due to that old devil called politics (and no, not record company politics on this occasion).
Whilst "Carry Me" was a massive hit in its native Canada, its failure to translate to success across the border has long been attributed to its subject matter, and most especially the weary line "
Carry me away from this old war/ I don't wanna fight no more"
which was apparently seen as being critical of the efforts in Vietnam by many radio station programmers. A shame they had to be so picky, because the song isn't necessarily a finger-wagging, fight-pickin' piece of political pop, but a very gentle, despairing track which probably encapsulated the mood of many people at the time, even those who honestly thought that the battle was one worth fighting. And lo and behold, it's equally applicable to another well-known situation today.
The band managed to notch up a couple of bona-fide US hits a bit later in their career with "Sweet City Woman" and "Hit The Road Jack", but this was one of their biggest smashes at home, and to my mind one of their most interesting (if simple) pieces of work.
On the subject of why so many cheap American singles suddenly seem to be cropping up in second hand stores around London, your guess is as good as mine.
http://sharebee.com/66e03628