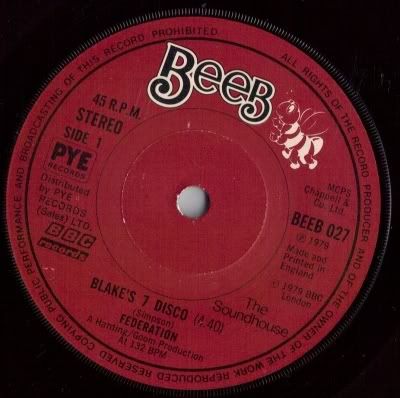 Who: Federation
What: Blake's 7 Disco (b/w "Disco Jimmy")
Label: Beeb
When: 1979
Where: Music and Video Exchange, Camden
Cost: Two pounds (reduced from three pounds - I could almost feel cheerful about that)
Yes, another example of a reworked or otherwise tampered television theme finds its way into the "Left and to the Back" archives, although to be frank in this case it's easy to see what the BBC were playing at. They'd already released an approximation of the theme tune in 1978 (rather than the theme itself - hear here: http://www.youtube.com/watch?v=hMsvrS2IeXQ) and presumably thought that a cult sci-fi hit like "Blake's Seven" was always going to be good for a bit of milking. Hence (presumably) this "disco" version of the theme emerged in 1979 as well. And why did they stop there, you have to wonder? Why not a whole album full of alternate versions of the "Blake's Seven" theme done in a whole wide range of styles?
Perhaps the full stop to any such grand schemes coming into fruition really had to come when this flopped, and I'll be blunt, that might have a lot to do with the fact that it really isn't much cop - even the most desperate sci-fi completist would turn their noses up. Driven by a squeaky synth rendition of the theme which sounds for all the world as if it's being sung by Sweep (now actually,
that
would have been a version worth hearing) some hideous, half-asleep psuedo-funky basslines, and the irritating and unrealistic "handclap"* noise on a drum machine, this could be the demonstration setting on a Rumbelows home MIDI synthesiser unit and nobody would be any the wiser. It sounds like the work of session people who despised what they were being asked to do, and wanted to get the whole exercise over with as swiftly as possible so they could nip down to the pub.
I aim to upload a compilation of novelty tracks to this blog very soon, and in that there should hopefully be at least some evidence that for all their disposability, the best novelty records contributed something slightly interesting - if unfashionable - to the world of pop. As three minutes slices of entertainment they frequently only got irritating purely because Radio One DJs didn't seem to know when the joke had finished and insisted on playing them to death. For every weird or witty novelty disc there are at least four or five cash-ins that stink, however, and I don't think anybody could deny this is down there with the worst of them. "Blake's Seven Disco"? I
challenge
you to get on the dancefloor to this one, matey.
More interesting - and perplexing - is the flipside "Disco Jimmy", which so far as I know appears to have no connections with the programme at all, and just consists of some bagpipes, a disco beat, and a drunken Scotsman sounding off, although I think it's safe to say that the man isn't a native.
Equally confusing is the "Beeb" label, which seemed to run parallel to the BBC label in the seventies, but didn't really have a different release policy at all. You wouldn't get away with that now without the tabloid press running a week of headlines about the Beeb wasting licence payer's money. Nice cheerful picture of a bee in the logo, though.
(*Why did drum machines always used to have this option? Were handclaps something people desperately needed to simulate in the late seventies and eighties, due to a shortage of willing clappers?)