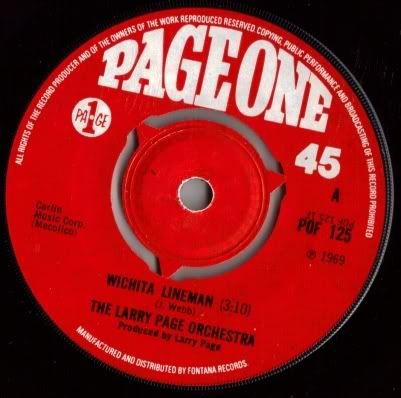 Who:Larry Page Orchestra
What: Wichita Lineman (b/w Scarboro Fair)
Label: Page One
When: 1969
Where: Reflex Records, Soho (RIP)
Cost: 50p


Larry Page was, to say the least, a peculiar man. One of the many entrepreneurs in the sixties to set up his own label and become a flash, young man-about-town, we shouldn't necessarily mistake flamboyance and youth for progressiveness or modernity. Despite the fact that he discovered and signed The Troggs, and worked extensively with The Kinks, his other major project The Larry Page Orchestra was nothing other than an easy listening ensemble created to give the Mums and Dads a flavour of what their offspring were listening to. Their album "Kinky Sounds", for example, just turned Ray Davies' output into cocktail lounge bar fare (it's quite good fun, though).

In total fairness to the project, some of the output was seriously imaginative. The orchestra's version of "Zabadak!" by Dave Dee, Dozy, Beaky, Mick and Titch, for example, manages to sound more interesting and absurd than the original, playing with textures and arrangements that the ridiculously named band only hinted at. It was heard very recently in the "Bang Bang It's Reeves and Mortimer" series backing the pair clumsily attempting to get out of their car. Other chunks of their output, on the other hand, were rather lazy and aped the original arrangements as closely as possible - Page's attitude to how the project could survive in the present day is rather telling: "All you need to do is take, say, an REM song, construct a good rhythm track with strings and substitute Michael Stipe's voice with a sax." Quite.

A lot of their tracks were recorded in one take, but the quality of the session players being used generally meant that mistakes are almost impossible to spot. "Wichita Lineman" is no exception, and positively floats out of your stereo speakers. It's certainly not better than the original, but different enough to justify the use of vinyl, and in any case as a song it's more or less impossible to butcher. It sounds as you'd expect an easy listening version of the track to, and that's not necessarily a bad thing.

There was a series of reissues of LPO material in the nineties to cash in on the easy listening revival, and I would happily upload one of them ("Music for Night People") on here, were it not for the fact that my PC won't recognise it for reasons known only to itself. You'll have to make do with this for now, but it's enough to be getting on with.



If you need something to look at whilst it's playing, simply stare at the picture of Larry Page and his lovely ladies below.