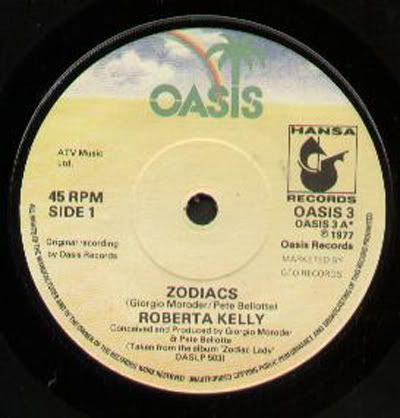 Label: Oasis/ Hansa
Year of Release: 1977
Giorgio Moroder doesn't seem to be talked about very often these days, which seems a shame - in his own sweet way he was very responsible for dragging the synthesiser on to the dancefloor where its largely remained ever since. We could argue about the influence of Kraftwerk or even early Krautrock for pedalling some disco-synth grooves throughout their careers, but Moroder was actually a genius at realising the full potential of silicon-lead dancefloor fillers and making an entire career out of it.
Admittedly "Zodiacs" isn't really one of his better singles, and is a slightly run-of-the-mill exploration into people's fascination with star signs. Roberta Kelly lists various star signs with admirable gusto, but it's hard to shake the belief that this is a bit of a cynical cash-in on the whole, and nor is it possible for me to shake the image of Russell Grant dancing in a glittery costume from my mind's eye, which occurs every time I try to play the single. Still, it was catchy enough to gain an audience in numerous clubs and rode relatively high in the US Club Charts, creating enough of an identity for Roberta Kelly to frequently refer to herself as the "Zodiac Lady".
What is interesting about the track is how elements of it resemble the seventies disco sound Pulp were so keen to replicate during various points in their career. Also, for the second entry in a row, what we have here is also a star who later moved on to find God. Roberta now largely records records of a religious nature, even releasing a single called "Pope John Paul II" in tribute to that particular papal character. In terms of disco singles with zeitgeisty spins, she did also release a song called "Kung Fu is Back Again" in the seventies as well, though this wasn't the hit Carl Douglas' "Kung Fu Fighting" managed to be, meaning presumably it wasn't actually "back" at the time at all, or at least, if it was, nobody wanted to hear Roberta Kelly singing about it.
In terms of obscure Moroder gems, not much tops "Underdog" which you can find at the Pure Pop Blog
here
. During the Sparksy gem, Moroder whines about prostitutes laughing at him - you can only wonder what Kelly might have made of that.
Download "Zodiacs" here.