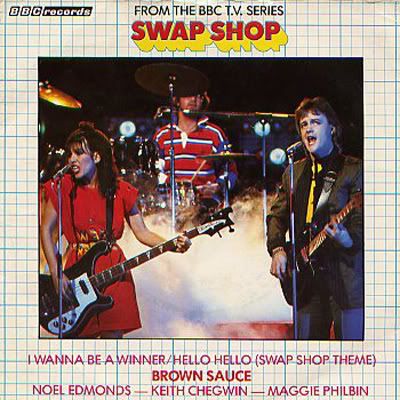 Label: BBC
Year of Release: 1981
Noel Edmonds... so much to answer for. Readers outside the UK may not be familiar with Noel, and for the benefit of those folks I have to reveal that he was (and arguably still is) the cuddly bearded Uncle of the airwaves*, dominating the popular culture of the seventies and eighties in particular, and even most of the nineties until he decided to get "dangerous", "dark" and "edgy" on our asses. And he did, too - the last series of the Saturday early evening extravaganza "Noel's House Party" saw him tormenting small children with fake 'aliens', losing his patience with surprised members of the public, and generally wheezing his airy laugh all over the place in a demonic fashion. That was my favourite series, incidentally, but everyone else had tuned out by then.
Way, way before all that, however, he presented a morning show called "Swap Shop" where children would phone up and attempt to swap their unwanted gifts with other kids all over the UK. In case this sounds too dull, the show was interspersed with celebrity banter, and interviews and japes from co-hosts Keith Chegwin and Maggie Philbin. And that, really, is where this single comes in. Written by Noel Edmonds and BA Robertson (of "Bang Bang" and "I Knocked it Off" fame) it is actually a passable ditty sung by Keith and Maggie, and not dissimilar in its stylings to Eurovision winners Bucks Fizz who were extremely popular at the time. Featuring some of the worst rhymes to grace a pop song ever (
"Don't want to rule like President Reagan/ or kick a ball like Kevin Keegan"
they blurt hopefully) and some of the most joyful, sugary riffs, it really shouldn't be treated as a serious product. Indeed, it was originally supposed to have been a one-off song on the programme, but public demand lead to its release on BBC Records. Listen once and you'll find an earworming little pop song, twice and the appeal will begin to wane, then three times and you'll be sick to death of the simplicity of it. You can't help but wonder if BA "Kool in the Kaftan" Robertson would have added a few more twists, turns and melodic diversions to the disc if he'd known it would actually become a single.
Whilst a few extra frills might have given the single Top Five status, public demand still took it to a creditable number 15 on the charts in January 1982, but that was the best it could hope for, and a follow-up single credited to The Saucers (also penned by BA Robertson) barely registered in the public's consciousness. Keith Chegwin went on to appear naked on evening television instead of Maggie Philbin as the Cosmic Ordering of all heterosexual male teenagers everywhere got terribly mixed up, Maggie Philbin herself did (and still does) numerous pieces of television presentation work, and Noel, of course, presents the ridiculously popular "Deal or No Deal" quiz show. But you'd have to be from Planet Zog not to have noticed that.
As for BA Robertson, his solo career had stalled by 1981, but he eventually co-wrote "The Living Years" - not with Noel Edmonds this time, but Mike Rutherford out of Genesis for his Mike and the Mechanics project. Beyond the beards, one has to wonder whether Rutherford and Edmonds have much in common, although I find it hard to imagine Rutherford doing prank phone calls to all and sundry. But you never know... perhaps Peter Gabriel dreads the phone ringing at some unearthly hour...
(*Footnote fact - Despite his cuddly Uncle image, Edmonds has made it known in interviews that he's a tough person to work for. Read into that what you will.)
And watch it below.