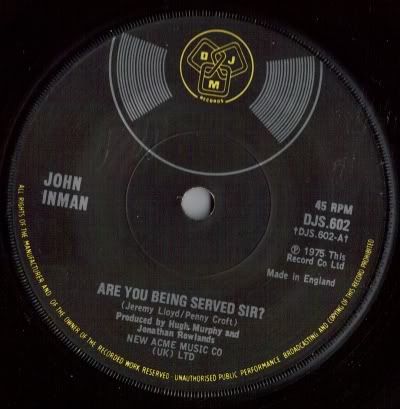 Who: John Inman
What: Are You Being Served Sir? (B/w "We All Love Captain Ginger")
Where: Music and Video Exchange, Notting Hill Gate, London
When: 1975
Label: DJM
Cost: One pound
Please don't blame me for uploading this one. A "Left and to the Back" reader asked me whether I owned it a few months back, clearly having me down as being the sort of person who would have a John Inman record somewhere in my collection. Whilst I hate being so woefully transparent, I clearly can't help it either - and I'd almost forgotten I had this one until their message reminded me.
How I managed to forget is quite another matter. Hopefully most readers are aware of the seventies sitcom "Are You Being Served?". "Are You Being Served Sir?", the spin-off hit single, is so ridiculous, so self-consciously over the top that it's impossible not to love it. If you were to sit with a click-counter trying to ascertain the number of innuendos-per-minute there were across these seven inches (madam), chances are this would be to light rudeness what beats would be to a hi-NRG disco record played at 78rpm rather than 45rpm. No stone is left unturned, and to add to the ludicrousness of it all even the most innocent words are censored out with the noise of an elevator bell. The female backing singers even loudly declare "Whoops!" at several points.
Just when you suspected that everyone concerned might have exhausted all sources of humour on the A-side, "We All Love Captain Ginger" on the b-side carries on in the same stupendous manner with Inman playing the ill-suited role of a masculine, lady-bothering, military sort. His vocals on the flip veer interestingly close to Tiny Tim territory, which is probably a coincidence - Tiny Tim's visibility in the UK was actually quite poor - but it's a pleasing quirk.
Whilst it pains me to say it, this is actually a really good comedy record. The series itself was frequently tiresome across a full half-hour, but Inman's delivery here, and the material he's given to play with, is actually both endearing and amusing. It sounds like a tremendously carefully scripted piece of work rather than the usual novelty tat which gets tossed off (whoops!) for everyone's attention, and that's probably why it just about managed to chart (at number 39, if you're feeling curious).
I believe there is also a John Inman album out there somewhere filled to the brim with this sort of material. One to look out for, clearly... Now, could I have my hand back, please? It's trapped between your thighs.