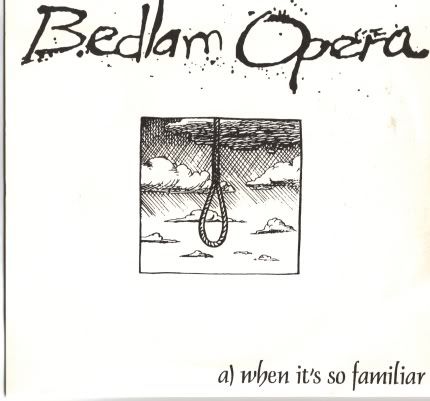 Label: white label
Year of Release: 1999
Given how much critics love to create "scenes" - and we're not talking about the kind of "scene" where they go into a cake shop and loudly accuse the man on the till of selling stale doughnuts, no, we're talking about music "scenes" here - it's somewhat surprising how many of them missed the trick of spotting a particular nineties trend. Following the arrival of Tindersticks into John Peel's Festive Fifty, a whole host of other bands with diverse instrumentation which would have made ELO look lo-fi trickled through the decade, their thoughtful brand of widescreen, cinematic pop almost acting as a counter-balance to the cartoonish brashness of Britpop. Besides Tindersticks themselves were Divine Comedy, the criminally under-rated Jack, My Life Story, and this lot, who gained considerably less attention than their conceptual cohorts.
Possibly more than any of the other bands, an awkward, almost Tom Waits inspired artiness is apparent in Bedlam Opera's output, which is particularly obvious on one side of the double A-side here. "Effervescent Architecture" is a manic, wide-eyed six minute surreal sea shanty which is actually probably my least favourite side. Far better to my ears is its companion, the rather delicate and melodramatic "When It's So Familiar", with its despondent keyboard lines, hollering vocals and sudden, hanging ending (is that what the morbid sleeve is referring to?) It's a piece of work you could imagine Scott Walker nodding approvingly to.
Whilst this single never got an official release as such, the personnel in Bedlam Opera did go off to do other notable things. Joe Murphy formed
Sergeant Buzfuz
, whose marvellous "High Slang" album was released last year to strong reviews and plentiful evening radio play (I notice that one optimistic soul has placed this single on e-bay as a "Buzfuz rarity").
Chris T-T
was briefly a member of the band before going solo and releasing a string of critically acclaimed and cultishly successful albums (he does not, however, feature on this recording). Lead singer MJB is now a poet who has worked with the likes of Sean Bonney. And even if any of what I've said means absolutely nothing to you, rest assured it's not a bad strike rate for one London group, even if they probably did have the unfair advantage of having considerably more members than most London bands, therefore an increased likelihood of having an impressive alumni.
I'm rather sad to report that the keyboard player on this track Matt Cole died in a road accident back in 2005 - I knew him personally, and whilst he never did say anything about it to me, I'm sure he'd have liked this single to have been heard by a few more people. There's also a whole unissued album "in the can" somewhere.