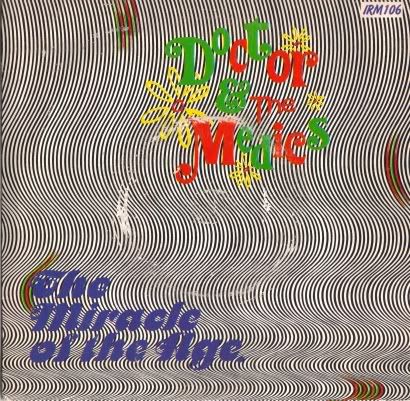 Label: IRS
Year of Release: 1985
Hopefully Doctor and the Medics will need little introduction to British readers of a certain generation at least - their biggest hit single, a cover of Norman Greenbaum's "Spirit in the Sky" was an inescapable number one hit in 1986. Frequently incorrectly tagged as "one hit wonders", they in fact scored again with "More" in the same year which reached number 29, but their fortunes tailed off gradually from that point on, perhaps not helped by their rather mediocre and not particularly hard hitting "Laughing at the Pieces" album from the same time.
Ostensibly formed as a psychedelic rock revival outfit, Doctor and the Medics didn't really score very many points on the freak-out-ometer. Their clothes were outlandish, and they certainly had some interesting song titles - their very first single was entitled "The Druids Are Here" - but the material itself appeared to have rather more glam leanings with very precise eighties production values. Much of it was no less enjoyable for that, and their contribution to organising events on the London underground psychedelic circuit in the eighties should also be noted, but they certainly weren't especially way out.
Early flop "Miracle of the Age" is no exception, really, but is notable for having been produced by Andy Partridge out of XTC. It's hard to really sense his presence on this record, since it doesn't sound much unlike the band's later material, but I've no doubt that fans of his will find the contents of this single of curiosity value.
As for the good Doctor and his cohorts, they're still going strong around the British gig circuit, playing clubs, festivals and the revival circuit, largely playing covers of other people's songs rather than their own material. They even stayed in my Uncle's hotel once, and he probably enjoyed their company a tiny bit too much if the stories I've since heard are anything to go by.