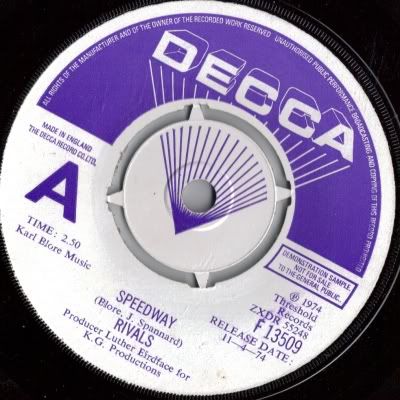 Label: Decca
Year of Release: 1974
Back in the seventies in Britain when World of Sport started showing things on ITV the majority of the population had never really previously thought of as being "sport", the world of speedway racing had a brief flurry of popularity. Some of the previously cultish, fringe sports such as snooker and darts inevitably benefitted massively from ITV's liberal (for which read you can also read "cheap") screening policies, and remain popular today - others had mere novelty interest, and it merely seems bizarre by present day standards that anybody would ever have much cared.
So popular was Speedway for awhile that this single was put out by the "star" racers of the day (the label doesn't offer any information on who they were). Like most singles by sporting stars, it does show a noticeable lack of talent in the vocal department - most of them sound as if staying in time is an enormous hassle, never mind staying in tune or adopting any expression in their voices at all. "Speedway! Spee--eeee--eedway!" they sing flatly and unenthusiastically as if they're singing "Kum Ba Yah" in church on Sunday. Still, if having an amazing voice were any indication of motorcycle ridin' prowess, Scott Walker would have been tearing around the track like a man possessed as well as issuing classic albums.
Sadly, the tune has no hints of glam rock about it, and therefore doesn't score very highly on the Denim or Earl Brutus-ometer, something I was secretly hoping would happen when I bought it. It sounds more like a knees-up tune around a pub piano. Of more interest to me is the fact that the copyright holders are Threshold Records, which was the Moody Blues' record label/ business venture. Were they in some way bankrolling this record, or even playing on it? It seems extremely unlikely, but stranger things have happened. Maybe Brum's most sensitive proggers had a balti-dripping, motorcycle loving side to them too.