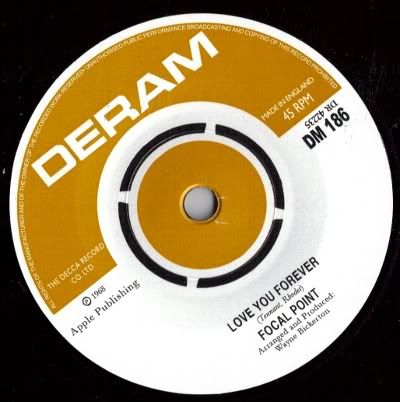 Label: Deram
Year of Release: 1968
Whilst the Apple organisation (as set up by The Beatles rather than some IT obsessives in California) is frequently thought of as being a well meaning, anarchic project gone slightly wrong, some bands blame the failure of their entire careers on the Fab Four's questionable project management abilities. Trash, for example, didn't seem to have the first clue whether The Beatles actually liked them or not, probably because some members were happy to bankroll them whether others weren't. In the midst of the confusion about their worth, they pissed off back to their Scottish homes with only one very minor top 40 hit on the Apple label to their names.
Focal Point were signed to Apple Publishing rather than directly to the Apple label, but apparently their careers were rather hampered by Beatle based bickering and questionable record company decisions, and subsequently they failed to really register with the public. This single "Love You Forever" appears to have been their only outing, and whilst it may be tempting to indirectly blame Yoko Ono for its failure, it has to be said that it's not the most inspiring A-side committed to vinyl that week, never mind in 1968 overall. It's a wetter-than-mouldy-carrots ballad with a dreary melody which completely fails to capture any originality, sounding like the kind of cast-off Joe Meek would have thrown into his tea chest for non-consideration.
Far more inspiring is the B-side "Sycamore Sid", which despite persistent rumours is not about Syd Barrett at all. Rather, it's a fantastic piece of popsike with organ freakouts and a knowing whimsy attached which pre-dates "Leisure" era Blur for tongue-in-cheek brilliance. It's one of those psychedelic tracks which would have been equally at home had it been released the late eighties and early nineties, and only suffers from a slightly rushed under-arrangement. Had more care been put into this, and the sides of the single been flipped, the results may have been rather different.
The band's brief but rather absurd story - beginning with them hassling Paul McCartney in a park - can be read online
here
.