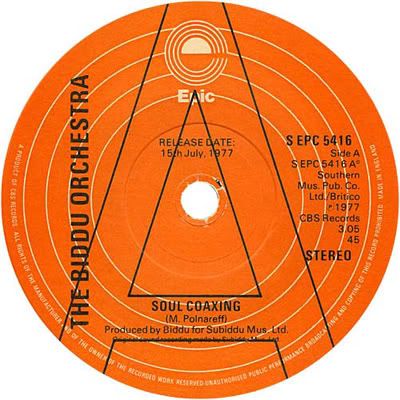 Who: Biddu Orchestra
What: Soul Coaxing
Label: Epic
When: 1977
Where: Music and Video Exchange, Camden High Street, London
Cost: 50p
Back in the seventies, Biddu Appaiah was something of a disco legend, producing huge hits for Tina Charles and Carol Douglas. He's still around today and creating new material, largely influenced more by the pop sounds of his Indian homeland than the likes of "Kung Fu Fighting" or "I Love to Love" ever really hinted at.
"Soul Coaxing" (or "Ame Caline" if you prefer) had been bubbling around on the Northern Soul circuit and indeed on the stereos of people at dinner and cocktail parties for some time - the ultimate easy listening version of the track for my money has already been posted on this blog
here
, which to me is still the definitive interpretation. You don't agree? Well, I'll forgive you just this once.
Biddu's disco reimagining of the tune is, it has to be said, lacking in the same wistful melancholy. That kind of moodiness simply wouldn't have got feet moving on the dancefloor. What it has instead is a lot of slickness which borders on the sultry or even sleazy - this sounds like the kind of record an unreformed seventies man would use in order to fondle the crotch of the lady of his fancy at a party. It's an intriguing example of how one tune can shift mood with no major alterations to the melody, just a different arrangement. This version is to me considerably less satisfying, and the public seemed to agree since it failed to sell in the same quantities as Raymond Lefevre's - however, it's at least nothing short of curious, which is precisely what the "Second Hand Record Dip" should be about.