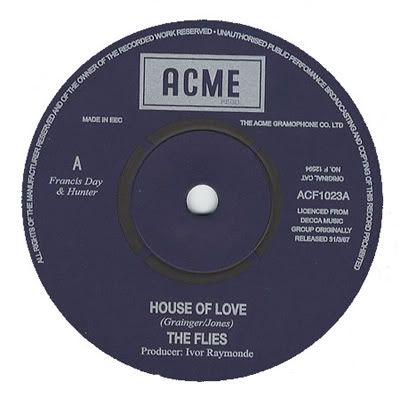 Label: Decca (this reissue Acme)
Year of Release: 1967
They were a rum bunch of old coves, The Flies. Hitless to the last, they were one of London's underground dwelling hippy house acts, appearing at the "14 Hour Technicolour Dream" wearing palm-leaf skirts and emptying flour all over the audience, then sneering in the music press that Syd Barrett's Pink Floyd had "sold out".
Given the above, you'd assume that their recorded output would sound rather like AMM, or perhaps the proto-prog of The Nice, all experimental and boundary breaking, making "Interstellar Overdrive" sound like "Love Me Do". In fact, what you actually got was some very sharp, abrasive and distinctly mod-ish rock music - in other words, this was essentially a band who hadn't really progressed much from the "clean living under difficult circumstances" model, but were damned if they were going to let anyone think they were behind the fashion of the times.
Whilst the sheer cheek of the situation might lead you to switch off, it should be noted that they were actually very, very sharp at what they did. Their version of The Monkees' "I'm Not Your Stepping Stone" leaves the song sounding mean, menacing and groovy, and this track is so savage and swaggering it somehow manages to sound like the work of some early nineties Madchester band. Funky basslines and pounding rhythms combine with vocals so over-annunciated Liam Gallagher would be impressed. The resultant cocktail ends up being what the music press of 1966 would probably have called a magnificent rave-up. Unfortunately for The Flies, the year was 1967, not 1966 - light years in sixties developmental terms - and this may well have been what caused the track to fail. Little else stands in its way apart from perhaps the slightly unambitious repetition in the chorus, but plenty of other acts succeeded with similar minimalism at the time.
The B-side "It Had To Be You" is a cover version of the standard, and almost sounds sarcastic in comparison - although it has a certain similarity to our
old friends Breez
e
we uncovered many entries ago. Don't worry, I'm not even attempting to suggest that both acts are one and the same.
The Flies split in 1968 after one final single, "Magic Train".