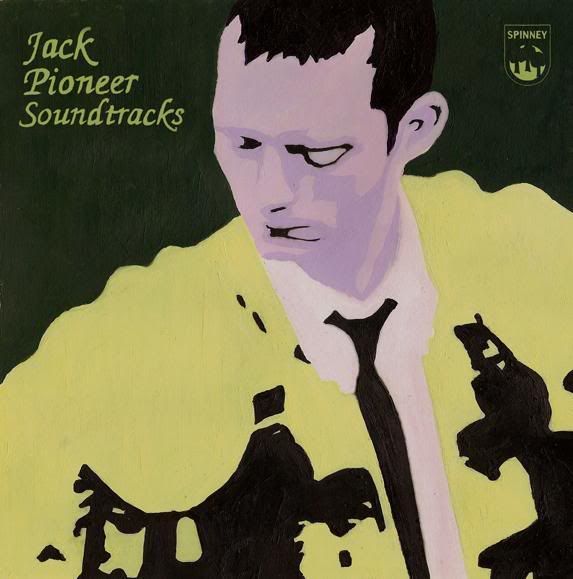 Year of issue: 1996
Label: Too Pure
With the likes of Mojo and Uncut seemingly uncovering at least three "lost" sixties or seventies classics a month and sapping those particular wells quite dry, it's probably inevitable that this blog will frequently focus more on recent decades. The mid nineties in particular was a period where so damn much was going on that a lot of excellent work managed to fall between the cracks, and the first Welsh band on "Left and to the Back" are absolutely no exception. Cult status they may have had, but much, much more was deserved.
Jack are particularly difficult to write about, purely because they seemed to arrive fully formed and self-defined. There was a sneaking sense that, rather than the journalists in the inky music press at the time describing them as "moody", "film noir", "melodramatic" and "tragic romantic", they'd actually held a committee meeting at some point around the first demo tape and decided that's exactly what they were going to be. Every single aspect of their music, their artwork, and even the way they appeared to hold themselves on stage leaved little room for personal interpretation or maneuver. The blurred black and white sleeve images, the doomed, drunken philosophy of lead singer Anthony Reynolds, and the lyrics seemed to be tremendously consistent. Almost all the songs on the debut album "Pioneer Soundtracks" focus on "the end" – The end of the world, the end of relationships, the end of hope, the end of drink-soaked evenings. The music was always heavily string-laden and epic, with Reynold's vocals somehow managing to sound simultaneously world-weary and impassioned.
Inevitably, the fact that the band were so sharply defined alienated many listeners and critics, and a quick glance across the reviews the band generated at the time shows an almost 50/50 split between nay-sayers and approvers. In one corner, you can find those who believed Jack were "pretentious" and found Anthony Reynolds rather ridiculous. "He'd like to think he's Serge Gainsbourg, but really he's just a short Welsh man in a suit", spat one critic. Others inevitably bracketed them with the Divine Comedy, My Life Story and Tindersticks in a slightly desperate attempt to create an arty scene of boys and girls who seemed rather more obsessed with strings than guitars. A few others managed (in my opinion) to get it spot on, deciding that Jack were something quite unique and unclassifiable – taking influences as disparate as John Cale, Scott Walker, The Stooges, Roxy Music, and the aforementioned Gainsbourg and combining them with eerie samples and observations from a place that sounded distinctly like urban Britain. Reynolds could make something as bland as drunkenly waiting for a night bus in Camden sound like an epic proposition.
Whilst "The Jazz Age" was actually an extremely good follow up album, there's little doubt that the debut "Pioneer Soundtracks" – which was produced by Chris Walsh, who also handled production duties on Scott Walker's "Tilt" – is the band's finest moment. It's one of those rare albums which works as a cohesive whole without once boring the listener. From the absolutely monstrous, epic, end of the world as we know it opener "…Of Lights" right down to the mournful closer "Hope Is A Liar", it (once again) describes itself perfectly accurately with its title alone, leaving me slightly redundant in my task in attempting to sum the band up or classify them. The best thing you could probably do is listen to the sample MP3 below, then perhaps pop out to buy the CD. Astonishingly, it is still available in remastered form with an extra disc of rare tracks. More info and audio samples are available at http://www.myspace.com/jackpioneersoundtracksreissue
"Dress You In Mourning": http://www.megaupload.com/?d=F6WJV0IQ