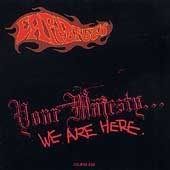 Year of Release – 1996
Label – Deceptive
When the NME came up with the idea for the "skunk rock" genre in the late nineties, the whiff of desperation rather than skunk must have been quite strong in the offices at Kings Reach Towers. Invented as a neat label for a bunch of bands who all consisted of slightly potato-faced, frequently unshaven men who were occasionally known to incorporate dance beats into their work, it really could have applied at any point in any decade. Would the KLF have been part of skunk rock in the eighties along with Mark Stewart and the Mafia, the Happy Mondays and Renegade Soundwave? Is Super Hans' band in The Peep Show "skunk rock"? Did skunk rock eventually just get swallowed into Hoxton and Shoreditch, becoming a place rather than a concept? These are precisely the sorts of questions absolutely nobody is asking at the moment, which proves how much the vague "genre" caught on.
You could sympathise with the journalists at the NME more than usual, though. The post-Britpop landscape was a rather desolate place, filled with weary string-laden ballads and post-rock, and not much else which would appeal to their thrill-seeking readership. Skunk rock lumped together a lot of bands who created lively, slightly anarchic culture clash noises, even though as scenes go it seemed to feature very few bands to begin with, and didn't collect many more candidates along the way.
Earl Brutus had already released the debut album "Your Majesty We Are Here" long before the time the NME had decided to categorise them. Supposedly written and recorded in two weeks flat, many critics at the time commented that it was an album which seemed to grab everything it could across decades of pop music. One Loaded critic even had an exceptional moment of clarity when he wrote that it consisted of "Whoopsy country to Kraftwerk sounding baloney and turning into gothic glam rock". Indeed, whilst news that it was written and recorded in a fortnight didn't stun me when I found out, it's raw in a spontaneous, energetic, and occasionally frightening way, rather than raw in a ramshackle way. For as much as Earl Brutus wanted to portray themselves as punk incompetents, the truth is that most of the members had served elsewhere and even earned their stripes with session work, the lead singer Nick Sanderson having once been the drummer for The Jesus and Mary Chain (making them the only band I can think of who have had two drummers who then went on to become lead singers elsewhere).
The single "Navyhead" (featured here) was an excellent pointer for the album's content. A greasy, sleazy, swaggering little disc, it sounded like pub glam rock being performed by an all-star ensemble of every angular punk band who had ever signed to Rough Trade in the early eighties, whilst somebody else made squelchy techno noises in the corner. Other tracks managed to reference seventies and early eighties electronic experiments, novelty pop, and new romanticism. "On Me Not In Me" sounds for all the world like a "Speak and Spell" era Depeche Mode tune, with lyrics partly about the loneliness of Harvester Restaurants. Even that song bursts into an Elizabethan instrumental break for no apparent reason, though, so anxious is it to explore other conflicting territories.
For all this plundering, the record managed to sound like nothing as much as itself in the long run – Earl Brutus sounded like the result of a lab experiment, producing a creature which looked demonic and frightening and seemed like little else on earth.
Aside from their recorded output being decidedly out of whack with the period, their behaviour was the cause of music press curiosity. At various points, the band:
· Used a spinning garage sign with "Music" written on one side and "Chips" on the other as a stage prop.
· Got a Japanese fan called Shin-Yu to join and shout angrily in his native language at concerts.
· Insisted that if they ever got on Top of the Pops (which failed to transpire) they would arrive on stage on horseback with fireworks blasting everywhere.
The sleeve for "Your Majesty We Are Here" was a rum affair, too, consisting entirely of blank pages in the CD booklet after Chat magazine refused to let them use a photo of theirs. The picture they wanted to run consisted of a girl crying as her mother lay drunk on a bed sozzled on whisky. It was originally used to illustrate a true life story article entitled "Mum Wanted Me Dead". That they considered this to be the best image to describe both the title of their album and the music contained within probably says more about them than any write-up ever could.
The blistering follow-up album "Tonight You Are The Special One" is probably the superior and more finely honed piece of work, but this is available for under a fiver on iTunes, and to be honest you should all be encouraged to line the band's pockets in any way you can. "Your Majesty…" is still a glorious piece of work, however, and has long been out of press. You can download it for free for a limited period below. It certainly beats paying eighty pounds for a collector's copy on various auction or sale sites, and that's for sure.

http://www.megaupload.com/?d=9Y9FQKBJ