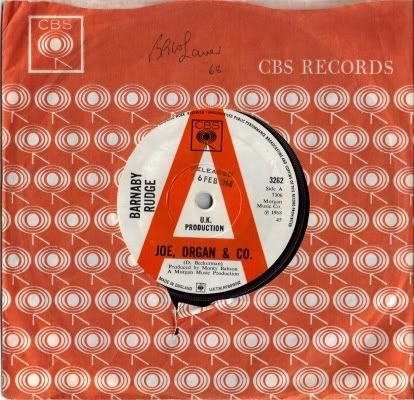 Label: CBS
Year of Release: 1968
On the last Beatles cover versions update, I briefly mentioned the Morgan Studios in North London and the tight circles of talent that operated in that environment. Barnaby Rudge is yet another Morgan "project", in this case a cockney hippy character created by studio hands Wil Malone and Danny Beckerman.
Sounding for all the world like a Deram-era David Bowie single, "Joe, Organ & Co" is really just a curious novelty track with a slightly melancholy edge. Focussing on the adventures of an organ grinder and his monkey, it is a simple piece punctuated by sound effects and undercut by a slightly downbeat lyric, the entire package reflecting the child-like nature of a lot of vaguely psychedelic pop of the period.
Despite plugs on several record stations (where Wil Malone was on occasion interviewed in character) the single wasn't a hit. Wil would later have more success in the nineties, working on the string arrangements for Massive Attack and The Verve - this is such a far cry from the style of those artists that it's hard to even make a connection, although I for one would love to hear Richard Ashcroft's cover version of this ditty.
I've included the B-side "Railway Jim" here for reference as well, a sprightly piece of nonsense which borders on irritating. Sadly, I don't have any access to the numerous Barnaby Rudge tracks which were apparently left in "the can" (as they say) although I find it hard to imagine how a whole album of this material could work.
http://sharebee.com/2d5de172