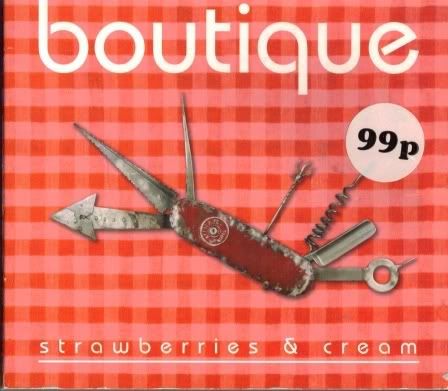 Label: Trade2/ Island
Year of Release: 1996
I've already posted Inaura's album in full, and gone into some depth about their problems getting it released - the final product seemingly magically appeared on the racks a whole two years after it had been completed and the last single had been out. As part of the Romo movement, however, I can't help but think they were lucky the product saw the light of day at all. The subject of this entry, Boutique, certainly never managed to leak out a long player.
To be brutally honest, the record company's mercenary attitude seems less mysterious in this instance. Their debut single "Strawberries and Cream" is a short, snappy and delightful little single, somehow miraculously ripping off riffs and feels from David Bowie's "Ashes to Ashes"
and The Jam's "Start!" without sounding as preposterous as you'd expect that to be. The simultaneously camp and strangulated vocals are decidedly peculiar and oddly enticing too. For all that, though, you have to wonder if any aspect of the record really screamed "We have arrived!" to the public at large - despite getting Island Records' marketing behind it (99p in the first week of sale, as you can see for yourselves), it does sound for all the world like one of those indie singles that slips out in a pressing of 500 copies, is put in a transparent bag with a cheaply printed sleeve, and only gets adopted and loved by a few weirdos and friends of the band. It's one of the strangest sounding debut "pop" singles I think I've ever heard, which is either tremendously admirable or willfully perverse depending upon your point of view.
It obviously didn't help that the Romo scene which spawned Boutique turned out to be a damp squib, and nor can its chart prospects have been improved by the slow freezing of the British public's interest towards all things of a slightly quirky or alternative bent by the tail end of 1996.
All in all, I doubt William Hill would have given you very long odds on this flopping, but that doesn't stop me from finding it a curious little track which I still occasionally pull down from my CD shelves and listen to.
It was also a placed track on the Chris Morris site Cookd and Bombd's Top 1000 singles of all time, curiously enough, and no, it wasn't me who nominated it - so this clearly found a small, appreciative audience somewhere.
CD EP Track Listing:
1. Strawberries and Cream.
2. Paraffin
3. Strawberries and Cream 12" extended mix
4. Armchair (Scissorkicks Remix)
http://sharebee.com/b9be39f9