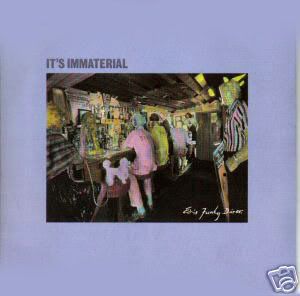 Label: Siren
Year of Release: 1986
Liverpool's It's Immaterial are a peculiar phenomenon - a One Hit Wonder whose hit ("Driving Away From Home") wasn't necessarily their best tune, nor their most obvious single. As wonderful and haunting as their tale of M62 journeying was, it almost seemed too subtle and understated to be a Top 20 hit, a wee bit too "indie" for the eighties, in fact.
For me, the most memorable It's Immaterial song was the bold and brassy follow-up "Ed's Funky Diner", which just about peeked its brow above the brim of the Top 75 before diving under again. Its failure is utterly mysterous. Radio One loved it, and throughout the summer of 1986 it could be heard all through the daytime on programmes as varied as the Breakfast Show, Steve Wright's afternoon sessions and even the Radio One roadshow (I used to have an off-air recording of this being played to almighty cheers in Brighton). It had an insistent chorus, imaginative but simple lyrics about a run-down, neon-festooned diner which instantly brought the place to life as you listened, and is one of the more memorable tracks of summer 1986. One can only imagine a lot of heads must have been scratched at Virgin HQ at the time.
The twelve inch version (included here) was an interesting concoction too, including Marxist standard "We'll Turn Things Upside Down (When the Revolution Comes)", and an extended and actually entirely different version of the title track which mixes in spoken word descriptions, rather like the single which preceded it. Folk instrumentation weaves its way in and out of the mixes, and unlike most extended singles of this period there's no sense of filler. The material on offer consists of re-workings rather than idle old remixes, which are immensely atmospheric and (as I've found) enjoyable late night listening.
It's Immaterial themselves never really had any more success, which was undeserved. Unlike their city cousins, they never quite sat out fully in the cool grey macintosh or army camouflage camp, and for all their oddness still had a keen sense of pop. It's hard to imagine Echo and the Bunnymen's "The Cutter" being greeted with whoops and cheers on a Radio One Roadshow broadcast, even if it was the more successful single. Still though, it's also hard to imagine the Bunnymen embracing world music, country, synthpop and samples (as It's Immaterial did on their albums) so I sometimes wonder who approached the recording studio with the biggest sense of adventure, irrespective of sales or acclaim.
Tracklisting:
1. Ed's Funky Diner (Keinholz Caper)
2. We'll Turn Things Upside Down (When the Revolution Comes)
3. Washing the Air (Rub-a-Dub Mix)
4. Ed's Funky Diner 7" Version
http://rapidshare.com/files/140036125/it_s_immaterial.zip.html