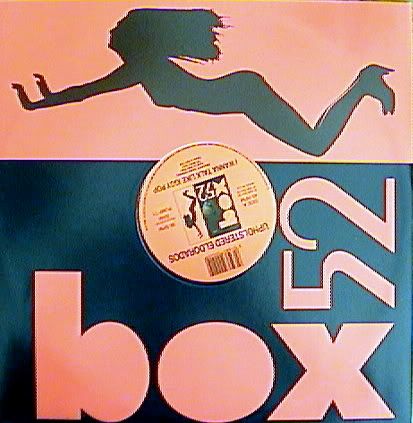 Label: Box 52 Records
Year of Release: 1990
Now here's a complete oddity with an all-star cast behind it (albeit an all-star cast from the Fourth Division of pop, with the exception of its main attraction). Andy Stennett - the keyboard player out of eighties disco wonderboys Freeeze - worked on this track, along with female vocalist Helen Shaw who had a few hits as the frontwoman of various club singles in the nineties.
Yer main man in all this, however, is obviously Iggy Pop. Absolutely all the lead vocals for this track were culled from an edition of Radio One's Roundtable where he was a guest reviewer, and the lyrics are simply found snippets of conversation where Pop frequently bemoans the state of pop. Possibly my favourite moment in the whole song is when Helen Shaw tries to "sing along" to his studio chatter, to fantastic comedic effect.
This was something of a cult club hit at the time, and obviously a one-off for all concerned - Iggy loved the track and gave it his blessing, but obviously didn't work with the individuals behind it in any other capacity, and they in turn presumably moved on to whatever their next DJ/ studio project was. Musically, it's a bit of a treat too - its shuffling early nineties, baggy-ish groove meant that it worked its way on to "Indie Top 20 Volume Eleven" without sounding too out of place, from where I must confess I got this recording. I don't own the original twelve inch, which can change hands for quite a bit of cash now.
One has to wonder if an equivalent project could be attempted by somebody today - this is certainly the only example of the "studio interview/ club record" crossover I can think of, although I'm happy to be proven wrong.