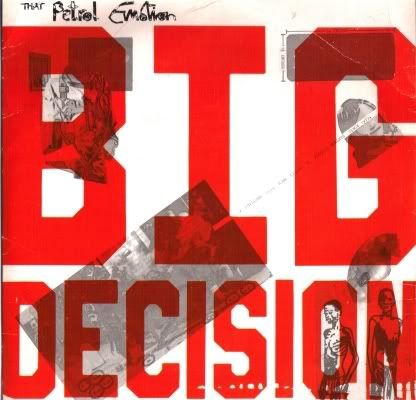 Label: Polydor
Year of Release: 1987
Not even the might of two different major labels could propel That Petrol Emotion into the big time. This - their most successful single, which reached number 42 - was issued on Polydor, and they had shifted over to Virgin by the end of the year who couldn't quite push them in an upwards direction either.
Formed from the ashes of The Undertones and the Derry Hitmakers, Northern Ireland's That Petrol Emotion were another band amongst a long, long line of acts who struggled to gain mainstream recognition at a time when most guitar-based pop was never going to do the business. Unless you were The Smiths, The Cure, The Bunnymen or The Mary Chain, or producing the huff and bluster associated with Simple Minds and U2, you were in for an uphill struggle. Even if you did manage to have one hit, the odds of following it up successfully were seldom strong, as The Primitives will surely tell you.
TPE were also effectively forerunners of a certain type of early nineties noise which would - to their extreme aggravation, I'm sure - fare slightly better for other artists in the new decade. The central riff around which "Big Decision" is built bears an uncanny resemblance to the Wonder Stuff's "Unbearable", a fact Miles Hunt acknowledged with some frustration, claiming never to have heard their song until its release at the time. Sonically they also had a resemblance to numerous other Camden-bothering, long hair-flicking, Lamacq-loved bands who managed a few top thirty hits then got forgotten about by the time Britpop rolled around. None of this would be greatly acknowledged by either A&R rep or music journalist, though, and they began 1993 releasing records on their own label. This is almost always the death knell for any band, and so it proved, until they reformed for some one-off gigs this year.
I doubt TPE will ever be elevated to the levels of respect afforded for the more "authentic", culty indie bands that littered the eighties, but they shouldn't be lightly dismissed either.
http://sharebee.com/124b5a4e