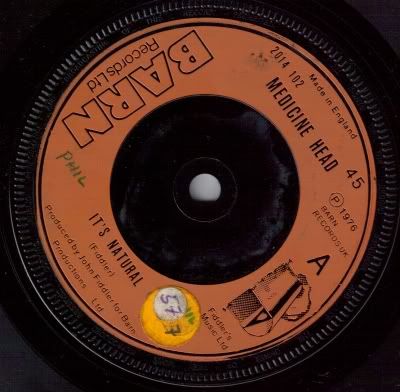 Label: Barn
Year of Release: 1976
Medicine Head have always been a curious case, so far as I'm concerned. Depending upon who you speak to, they were either "Forward thinking punk rockers playing the blues in a minimal and daring way", "A pretty good rock band, good for a couple of quid on the live circuit, actually", or "purist bores who were lucky to last as long as they did with one idea". That's what my three imaginary friends said on the telephone when I rang them up just now, anyway (they don't get together in one place very often - there would be too many fights).
For my part, I find it hard to understand how a duo who began with so much credibility could become so seldom referenced. Consisting of John Fiddler on vocals, guitar, piano and drums and Peter Hope-Evans on harmonica, jew's harp and mouthbow, they played blues tinged rock and roll stripped down and raw. John Peel adored them so much he signed them to his own label, Dandelion Records, and even gave them their first hit "(And The) Pictures in the Sky" - a minimal thumper with jew's harp, humming, rather T Rexy lyrics and bar-room boogie piano which, for however 'worthy' that sounds, is actually bloody ace, not making much of an impression first listen, but worming its way into your head slowly and finally setting up home there for good. Had it been issued in the sixties rather than 1971, we'd probably be talking about it a lot more than we presently do.
The whole "Two Man Band" schtick of Medicine Head, plus the blues influences, does make one wonder if Peel recognised bits of the White Stripes in them at a later date. It's true to say that The White Stripes are a lot better, and less hairy, and more noisy and less considered than The Head, but the template remained much the same. A standard quote in reviews of their gigs at the time seemed to be "It's astonishing how two people playing the blues can make so much noise!", which, of course, became the standard line for virtually every hack seeing Jack and Meg for the first time in the late nineties. Perhaps when somebody else comes along and does it for a third time fewer people will have their expectations confounded.
By the time "It's Natural" slipped out in 1976, Medicine Head had already managed to have a top ten hit and three top forty hits on Polydor, but no hit albums. After it became clear they weren't going to have their contract renewed, they moved over to Slade manager Chas Chandler's label Barn, who began to handle their affairs.
One of their final shots, "It's Natural" is a slightly tame beast despite its rolling groove. There's some nice guitar twanging in there and I still find the whole thing impossible to dislike, but it couldn't sound less like a single if it tried - the fact it flopped, then, should not bother us unduly, but the fact that the band were heading towards the end of their careers possibly should have done. For all their hair and beards and worship at the alter of thousands of sacrificied bluesmen, part of me thinks that there was something quite DIY and intriguing about them which didn't quite 'fit' the excesses of prog, and the fact that they've been relegated to a very minor footnote in rock music since seems a bit unjust.
Shortly after this single, the band split, and neither John Fiddler or Peter Hope-Evans have played together again since.
http://sharebee.com/6d5b8740