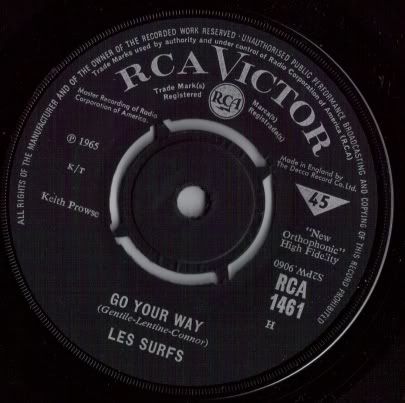 Who: Les Surfs
What: Go Your Way (b/w "Chained to a Memory")
When: 1965
Label: RCA
Where: Wood Street Market, Walthamstow
Cost: 50p
The current state of the singles collecting market means that I can afford to make the odd mistake now and then. Whereas a lot of stores in the past would have happily priced up any old obscure sixties nonsense at ten pounds purely because it was obscure nonsense, and for no other reason, now things appear to be getting more reasonable. True, some hucksters are presently trying to flog off Beatles singles for extortionate sums of money purely because they are out-source pressings from when EMI's in-house facilities were stretched to capacity, even though to all intents and purposes they are exactly the same product, but besides that... there's a recession on. Haven't you heard?
This means that items I would have walked past back when people were pricing them up in a barmy fashion I now take a punt on... sometimes it pays off, and very frequently I'm afraid it doesn't. Take this single, for instance. I was absolutely convinced that Les Surfs were probably some kind of French surf rock band, which would have been impossible to walk past for the same price as a bar of Snickers - but it transpires that they were actually a family act from Madagascar who did a reasonable, if rather unexciting, line in harmony pop.
Apparently huge in many European countries but never quite breaking through in Britain, Les Surfs are still much loved by a lot of sixties pop collectors, and their material certainly has a certain warmth and naive charm. Dick Dale, however, it most definitely is not.
http://sharebee.com/6fb8e738