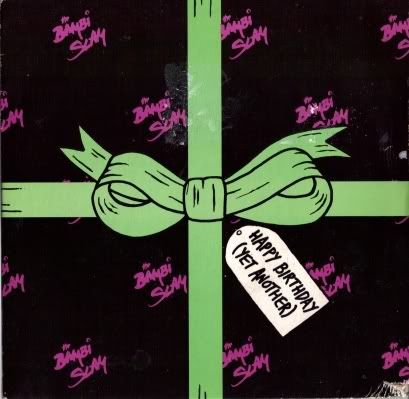 Label: Product Inc/ Mute
Year of Release: 1987
The interesting thing about mid-eighties indie bands is that to be remembered, you really had to be involved specifically with the more fashionable or cultish scenes. Generally speaking, if you've had a single out on Sarah Records - just for example - it will be remembered by a surprising number of people even if the general consensus is that it's one of the worst things they ever released. Additionally (and moving slightly into the nineties as well) baggy bands have websites and blogs up and down the internet raving about their work, no matter how unsuccessful they were.
If, on the other hand, what you were doing didn't quite fit the general C86 scheme of things or leaned towards the dreaded 'g' word Grebo (and not "Goth" - those bands still appeared to be loved with affection by their chosen audience), chances are you won't crop up in conversation a lot. And so we must look with a certain sadness towards The Bambi Slam, a band with John Peel and Janice Long sessions under their belt, television exposure and press excitement who, by the time the decade was over, really might as well have not existed.
Being reasonable about this, their flash in the pan status might not be too surprising - at the time, their beatbox driven grooves combined with punky riffage probably seemed a bit daring, but now the dust has settled and the novelty has worn off, they do sound a lot tamer than their initial reputation would have had us believe. There was an accessibility to their work that other bands of the time just didn't have, as well as a frequently infectious energy. Bogshed they were not - but perhaps, in a sense, that's the problem. They just weren't mainstream enough to make the mark many predicted they would, but nor were they sufficiently "out there" to be remembered as wild eccentrics.
Still, the string of singles they left us behind are actually solid listening, and "Happy Birthday" is no exception at all. Driven by an insistent riff, a primitive, driving beatbox and hollered vocals, it was a fairly large Indie Top 10 hit at the time, and not without reason. Their Warner Brothers issued album didn't quite create as much interest, but we shouldn't kid ourselves that they simply laid down and gave up after being dropped - they are actually still going under the guidance of their original front man Roy Slam, and still releasing records.
Happy New Year, by the way. Yes, I know most other blogs are doing end of year round-ups or predicting what will happen in 2009, but that hardly seems appropriate for a backwards looking blogspace like this one. Rest assured I'll continue to dig up as many bits and bobs for as long as I can either get away with it, or have enough unripped CDs and vinyl left in my cupboard I feel strongly enough to be bothered writing about. If the price of secondhand vinyl begins to dip any lower, chances are it might be a very productive New Year.