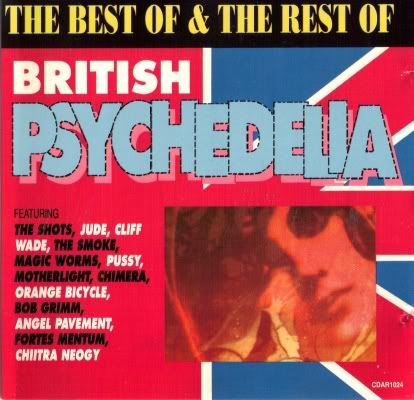 Label: Action Replay/ Morgan Blue TownYear of Release: 1988/91
Ooh, the confusion this one's likely to cause. I'll start from the beginning, shall I?
Once upon a time, there was a North London based recording studio and record label called Morgan, who were extremely successful in their capacity as the former, attracting visits from the Rolling Stones amongst others, but disappeared completely under the radar as an independent house of hits. Some of their acts such as The Orange Bicycle found success on the continent, but in the UK almost all their bands were ignored, and the label failed to produce anything which charted.
Mindful of the changing tide, and perhaps sensing an opportunity to claw back some cash, the label and studio owner Monty Babson created a psychedelic and progressive outlet called Morgan Blue Town in the late sixties which issued a few slabs of vinyl before giving up the ghost. Astonishingly, though, a great many acts were waiting in the wings to issue material for MBT which never got heard outside the studio walls due to the label's demise.
"What the bloody hell does this have to do with an album entitled 'The Best Of and the Rest Of British Psychedelia', I hear you impolitely cry. Shut your cakehole, and I'll tell you. This very compilation was originally issued in 1988 under the name "Morgan Blue Town", seemingly on the reactivated label, and was then deleted and fell off the shelves before being reissued again as a budget CD by Action Replay under its new and frankly rather misleading name and sleeve design. The tracklisting covers a lot of material which was unreleased in the sixties, plus a quantity of stuff which was licensed elsewhere - Angel Pavement, for example, briefly had their material out on Fontana Records.
The sound quality on this CD is imperfect, and the tracklisting is flawed and periodically factually incorrect ("House of Many Windows" should be credited to Bobak, Jons, Malone, and not Motherlight) but there are still some pearls on here which any self-respecting fan of the genre should hear, from Jude's marvellous reading of "Morning Morgan Town" to Cliff Wade's preposterous but ultimately lovable "Look at Me, I've Fallen Into A Teapot" - and he does too, right at the end.
The ultimate guide to all things Morgan is a compilation issued by Sanctuary called "House of Many Windows", which they released as part of the "Psychedelic Pstones" series. I haven't uploaded it here yet because it still seems to be generally available, but that album in particular proves that there was an impressive creative buzz going on. A lot of the musicians and producers worked together across most of the Morgan work, cropping up on each other's recordings all the time, and thus the studio has a very definite sound which I've always found extremely appealing. There's a fuzzy warmth and decidedly twee leaning to a lot of the poppier work, a lot of cute classical motifs which don't sound Spinal Tappish or tacked on (as on the Gorkys-ish "Saga of a Wrinkled Man"), and when the musicians are really given something to get their teeth stuck into (such as "House of Many Windows") there's an impressive depth and variation to the work. Kick me where it hurts for saying this if you must, but I've always preferred the Morgan sound to the Joe Meek sound, whilst fully appreciating the fact that the latter was more inventive and influential (and actually more successful too - it's just that Monty Babson happened to be a better businessman than Meek, and knew how to invest money wisely).
I've already covered the Bobak, Jons, Malone story
here
, so have another read of that if you need to get your bearings - all three worked on most of the recordings presented on this disc, so it's worth a look to get the full back-story.
Download it Here
Tracklisting:1. Jude - Morning Morgan Town
2. The Shots - Keep Hold of What You've Got
3. Cliff Wade - Shirley
4. Motherlight - House of Many Windows
5. Chimera - Peru
6. Fortes Mentum - Saga of a Wrinkled Man
7. Angel Pavement - Baby You've Gotta Stay
8. The Smoke - My Friend Jack
9. Orange Bicycle - Laura's Garden
10. Bob Grimm - It Never Stays The Same
11. Pussy - All of My Life
12. Magic Worms - Green Mello Hill
13. Chiitra Neogy - Leilla
14. Cliff Wade - Look at Me, I've Fallen Into A Teapot