The phrase "slim pickings" springs to mind. If it weren't enough that I'm personally quite overworked at the moment, on the recent occasions when I have had a chance to nip into a second hand record store to consider their wares, I've found very little to get excited about. The overpriced sixties hits are all present and correct, but there's little else to shout about. If the only thing you've even been marginally tempted by is a copy of Rory Bremner's legendary "Nineteen Not Out" satirical cricketing disc, then that's a poor month by anybody's standards. Do second hand record stores have summer lulls just the same as everyone else, I wonder?
Still, such disappointments give me a chance to do a bit of an update on people we've previously featured on the blog. Ever since starting this site up I've noticed that no sooner do you write about a band and upload their material than you spot another single or album of theirs weeks later you could quite easily have added to the original entry. It may seem as if I'm lumping two female fronted indie bands together for the sake of it here, but the reality is just that more material of theirs showed up quite recently.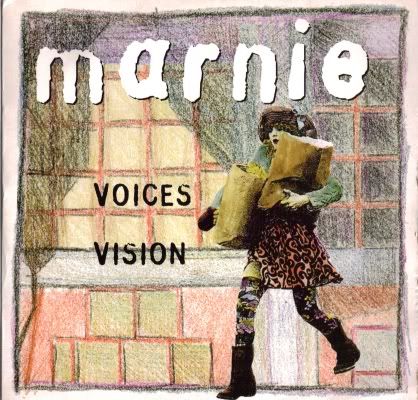 Artist/ Title: Marnie: "Voices/ Vision"
Label: Progression
Year of Release: 1996
First out of the traps here is Marnie. I put out a request for further information about them last time around, and got no responses at all from anybody. I will repeat my plea again now - it's extremely rare for any band, however marginal, to simply "disappear from view" after they released a few records in the nineties. Most acts from that era leave a dirty great Internet snail trail, or are such keen vanity Googlists that they pop up to say hello within weeks of you posting the original entry. Unlike the sixties hippies and beat bands, they don't simply get dayjobs running pet supply stores and forget that anything ever happened. This single is really more of the same scratchy, angsty melodrama from the girls known as Olga and Michelle, with the same snappy A-side/ doomy, atmospheric B-side combination as their last release. Once again, Roman Jugg out of The Damned was at the producer's controls, but beyond that I know nothing. Come on, somebody must have seen Marnie live once or have something to report about them.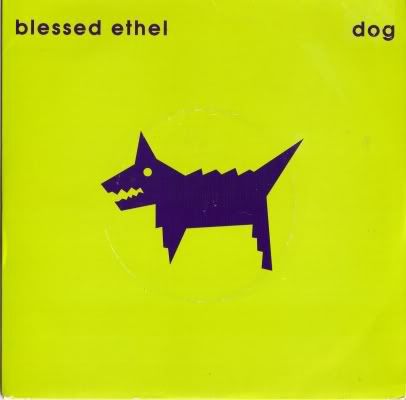 Artist/ Title: Blessed Ethel: Dog (b/w "Something Weird" and "Crystal Tips")
Label: 2 Damn Loud
Year of Release: 1993
Then, of course, there's Blessed Ethel, the band who famously beat Oasis in a Battle of the Bands contest, winning a battle but plainly failing to win the war.
Information on them is rather more conclusive since they generated quite a bit of press at the time, but I have nothing much to add beyond my last entry. "Dog" is a bit psychotic, sounding part Suzi Quatro, part grunge fed through a variety of gnarling studio effects.
Download it Here
End of update. Soz kids - there is some new stuff waiting in the wings, but I'm waiting until I've got a decent enough pile of it before I have a vinyl ripping session.