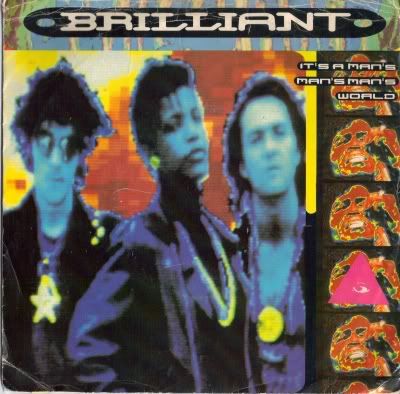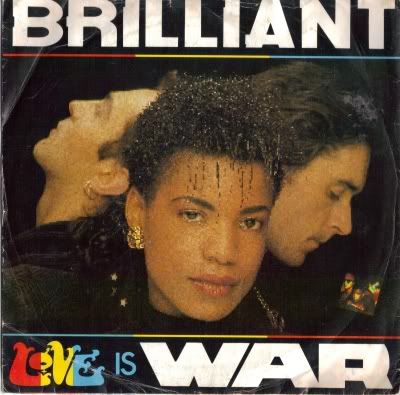 Label: Food
Year of Release: 1985
Before Jimmy Cauty formed the Justified Ancients of Mu Mu (aka The KLF, aka The Timelords, aka Disco 2000, etc) with Bill Drummond, he had a minor career of his own with Brilliant, one of the very few Stock Aitken and Waterman produced acts to fail commercially. Cauty has recalled his time with SAW as being an interesting learning curve, as their production techniques tended to involve treating musicians as unnecessary appendages, preferring to use the available studio technology as the building blocks for each track. Rather than flounce out of the studio in a huff, he absorbed their ways, which informed a great deal of the KLF's techniques in later years.
Online, much has been made of the fact that Brilliant's singles aren't going to be of anything more than passing interest to most KLF fans. Whilst this is likely, there is still a certain charm about both of these efforts, with the remake of "...Man's Man's Man's World" in particular being notably un-SAWish in its noises, sounding more like an approximation of Scritti Politti at moments. Perhaps Pete Waterman had been listening to "Cupid and Psyche" a lot at the time. The self-produced flip side of the disc "Crash The Car" also uses some very KLF styled loops and beats as its basis, which may prove interesting to fans - the un-named instrumentals from the "Shag Times" album have a certain something in common with it. It's clearly a very throwaway B-side, but it indicates that while Cauty might have learned a lot from the mighty eighties trio, Brilliant's records might possibly been closer to their actual name if he'd had more of a lead in directing their sound. As always, we could speculate forever...
Brilliant were definitely given reasonable airplay at the time of their releases, so their failure isn't down to lack of exposure, but more likely public disinterest. However, as Cauty met Drummond through David Balfe who ran Food Records, and the KLF were the result of that introduction, the end results weren't all negative.