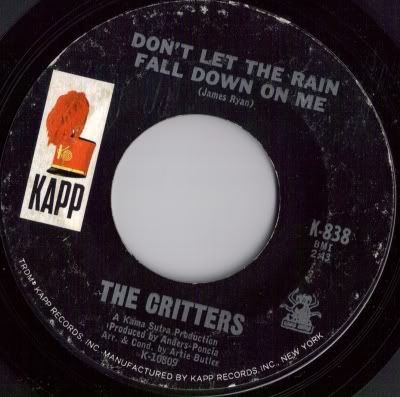 Label: Kapp
Date of Release: 1967
Another band we've covered before, I'm afraid. Nonetheless, that's no reason not to explore their back catalogue in a little depth, and this recent discovery is a bit of a gem, albeit a rather scratched and scuffed up one.
"Don't Let The Rain Fall Down On Me" was written by lead guitarist Jim Ryan in a ten-minute session in his Villanova University dorm room after being drenched by a downpour (whether the same can be applied to Fran Healy out of Travis for his similarly titled effort is open to speculation) and is a slightly Walker Brothers-tinged ballad with a very downbeat air. It was The Critters' last hit in America, popping into the Top 40 on a quick social call in 1967. Britain, it would seem, completely ignored the disc.
The B-side, "Walk Like A Man" is perhaps more pleasing, being a much more chest-beating statement of intent, albeit drenched in the same sugary melodies.
I doubt there will be any further chapters to add to the Critters story on this blog, but if any other discs crop up on these shores, I'm sure I'll add them eventually.