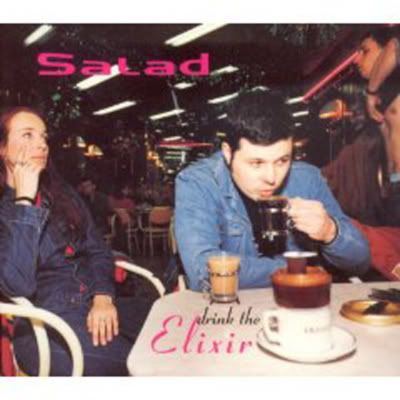 Label: Island Red Label
Year of Release: 1995
Oh, don't you just hate it when you've said everything you really wanted to say about a band in an entry
already
? What more can be added to my initial analysis of Salad as a band, which can roughly be summarised as "indie band fronted by model and MTV presenter, started out shit, even their Press Officer confessed that they used to be shit, then suddenly, quite inexplicably, they became rather good"?
Salad are probably one of the biggest Britpop era bands to seemingly have no material still available on-catalogue. They may not exactly have dished out Top 40 singles, but they had enough of a cult following to score a top twenty album ("Drink Me") and were certainly given plenty of media space at their peak. "Drink The Elixir" seemed to be the first release of their careers to pick up some mainstream exposure, getting an ITV Chart Show play in the indie chart (and yes, Island Red were a subsidiary of Island distributed by Vital, pointlessly enough - loads of indie chart rigging of this nature went on in those days) and opening up the ears of previously disinterested people like me.
"Drink The Elixir" is a delightful little single as well, Marijne's cooing vocals balancing on top of some demonic, angular guitar riffs, and a great big clanging conclusion. Unlike many of their peers, Salad did have a slightly abrasive, oddball edge which went largely unnoticed at the time, critics preferring to whine about how their lead singer was a C-list celebrity before the band even started. Whilst there's little doubt that Marijne got the band attention they might not otherwise have received early in their careers, some of their later material would have stood out wonderfully at any time.
Tracklisting:
1. Drink The Elixir
2. Kiss My Love
3. Julius
4. Diminished Clothes (live)