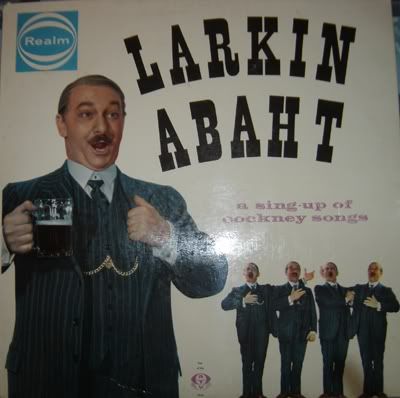 Who: The Mike Sammes Singers plus assorted cast of actors
Where: Music and Video Exchange, Camden High Street
Caw blimey, we're going back a bit with this 'un. "The Larkins" was a British television sitcom devised in the fifties, and apparently marketed to rival the American influx of such entertainment. It featured Alf Larkin (played by David Kossoff) a matter-of-fact cockney gent who was ruled over by his considerably more forthright wife (Peggy Mount). It had absolutely nothing to do with the "Darling Buds of May" despite the use of the "Larkin" surname.
Numerous critics praised the series for its sharpness of wit, and as a result the inevitable spin-offs - oh, there have always been spin-offs it seems, since the media began - emerged. One such production was the obligatory film-of-the-sit-com "Inn For Trouble" which was lunched into British cinemas in 1959. And then in 1960, the album "Larkin' Abaht" reared its head, only to remain largely unplayed by at least one punter who clearly dumped it in the Camden Music and Video Exchange some fifty years later. Truly, you don't come across albums from 1960 which are this "mint" very often.
Whether you're a fan of the original programme or not, it has to be said that this album does seem rather short of wit. It's essentially a compilation of cockney songs (as the title would suggest) performed by the Mike Sammes Singers, all linked together in the guise of a live pub performance, with bits of heckling and dialogue from the various actors between tracks. Given the popularity of the television series it's an important artefact, but an inessential overall piece of work, I'd say. There's some smileworthy glib comments here and there, and if you haven't heard "I'm Shy Mary Ellen, I'm Shy" before there are worse versions around than the one available here - but that's the most praise I can give, I'm afraid, apart from to add that the pub noise and dialogue does paint a fairly charming picture.
As I've mentioned on this blog before, Oriole Records did have a nasty habit of wiping their master tapes regularly, so I'm unsure if this particular album has been scrubbed clean by some daft executive. Regardless of whether that's true or not, this is a very pristine, virtually scratch-free copy of the record, and so may be the best version we're going to get for now whatever the state of the masters. Sorry for offering the entirety of the album in the form of two tracks ("Side One" and "Side Two"). Due to the continually flowing nature of the record, it's difficult to divide the content up in other ways using the technology I have available to me.
1. Wot Cher! (Knock'd 'Em in The Old Kent Road)
3. I'm Shy Mary Ellen, I'm Shy
4. The Hobnailed Boots That Farver Wore
6. Don't Have Any More Missus Moore
7. When Father Papered The Parlour
8. The Miner's Dream Of Home
9. They Built Piccadilly For Me
10. It's A Great Big Shame
12. If It Wasn't For The 'Ouses In Between