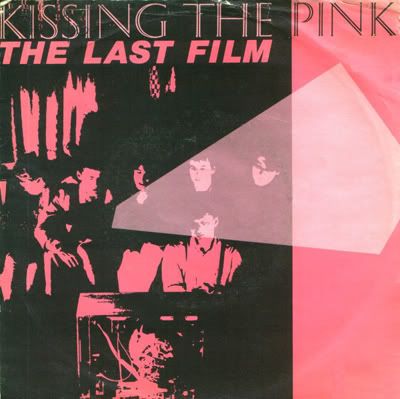 Label: Magnet
Year of Release: 1983
"In the last film I ever saw/ they wore suits and they wore tiiieees..." Well, it's good to know that the actors in this particular film - whatever it was - hadn't taken up the David Cameron-endorsed trend of wearing suits without ties...
"The Last Film" was a very peculiar and - speaking purely for myself here - rather unexpected number 19 hit in 1983 for Kissing The Pink, a band who had originally been produced by Martin Hannett, and had also harboured ambitions to work with Brian Eno (which the record company thwarted). Whatever "Last Film" is in anyone's pocket thesaurus of pop styles, it's not particularly "commercial", preferring to slowly build up an eerie atmosphere of doom, despondency and general grief via peculiar monk-chanting backing vocals, "Generals and Majors" styled whistling noises, and bizarre lyrical imagery. Clearly the playlisters at Radio One were having some sort of existential crisis at the time, and it popped up on the radio more often than one would expect, even being used as the track which first introduced Dave Lee Travis' long-standing "Give Us A Break" quiz (Kissing the Pink = snooker - do you see?)
Unlike most one hit wonders, Kissing The Pink still have a credible career, most recently being seen working with legendary Dance producers X-Press 2 on their album "Makeshift Feelgood". They also released a number of club-friendly singles throughout the late eighties and early nineties, most notably
"Stand Up"
which sounded like much more of an obvious hit than "The Last Film", but somehow failed to make much of an impression.
This single is commercially available in all the usual places online. You can hear "The Last Film"
over on YouTube
- thanks to season1steve for the upload.