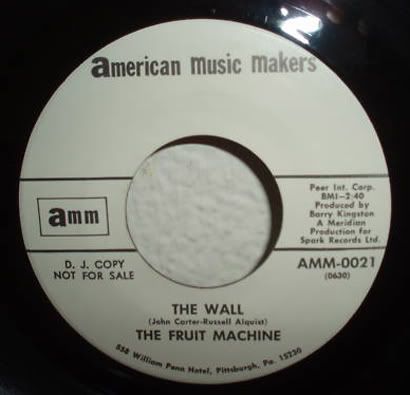 Label: American Music Makers/ Spark
Year of Release: 1969
From the very limited information I have available to me, it's possible to deduce that The Fruit Machine were a London-based band of teenagers who produced some rather gritty, beaty pieces of late sixties rock. "Follow Me" and their cover of Cream's "Sunshine of Your Love" in particular hint towards a unit who weren't shy about the use of beefy hard rock vocalisations and guitar work-outs.
Neither of their singles on Spark (the rather more fey "Cuddly Toy" and "I'm Alone Today") did any business, and for some perplexing reason the label opted out of issuing this one in the UK. Instead it was licensed to "American Music Makers" for US distribution, failing to crack that market in much the same manner that their UK singles had done. Its lack of success can perhaps be put down to its subject matter and fluffy hippy-isms seeming antiquated as the seventies dawned, but it's still one of the finest pop examples of the psychedelic genre. Penned by John Carter and Russ Alquist (who also released the amazing "Laughing Man" single on Spark) it appears to be a ballad on the subject of materialism backed with shimmering effects, gut-thudding, plunging basslines, and Eastern-styled instrumentation. For all that, at no point does it seem like a cheap novelty item, nor over-the-top - it's just a marvellous piece of songwriting and production which earworms you immediately after the first listen. Only the badly produced, treble-heavy trumpets can be faulted.
My copy of this is the DJ promo which is the same both sides, and therefore fails to feature the official flip side "Willow Tree". If anyone has that, or has heard it, please do let me know.
In the meantime, altogether now: "Mmmmmm-mmmmmmm-oooooo-aaaahhhhhhhh".