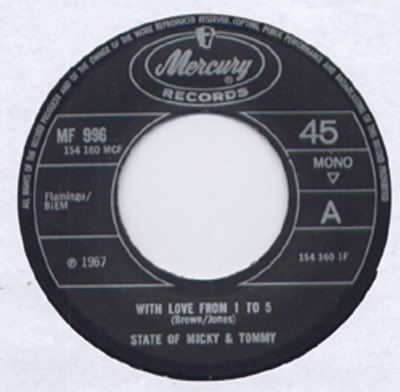 Label: Mercury
Year of Release: 1967
Whilst more pieces of sonic goodness emerged in 1967 than can possibly be imagined in any ordinary year, and choosing your favourite tracks is a hard job, I have to say that "With Love From 1 to 5" effortlessly encapsulates the sound of any summer, and not just the 'summer of love'. Even when the needle drops on this little single in Summer 2010, it's like an aural bubblebath, or a beautiful soundspray of ideas which is more relaxing and pleasing than a hundred strategically placed windchimes.
Micky Jones and Tommy Brown were rather well known in France for being part of Johnny Hallyday's backing band (or "The French Elvis"). This led to endless session work and live work in France and not a great deal of exposure back in the UK, although this single was surely supposed to have been booming out of every alehouse jukebox during the summer of '67. Sadly, it was not to be, and it wasn't really until the "Chocolate Soup" series of albums featured this track in the eighties that it caught a section of the British public's imagination.
Not that Mick Jones, as he's known these days, could give a stuff one way or the other. He went on to fame and fortune in the (perhaps somewhat appropriately named) Foreigner, whose records bothered the airwaves in America and Britain to such an extent that it must have seemed as if he was trying to make up for lost time. To my ears, however, this kicks "I Want To Know What Love Is" into the dirt, even if several million other people probably do disagree with me.
"With Love From 1 to 5" is commercially available in all the usual places, but can be heard in full
on YouTube
. Thanks to The Mushroom Machine for the upload.