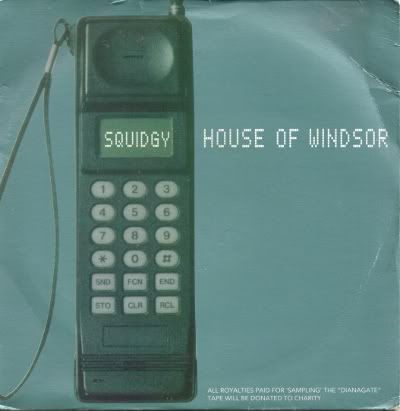 Label: Di-Lema Records
Year of RElease: 1992
"If you want to be like me, you've got to suffer..."
Princess Diana hopefully needs few introductions to readers of "Left and to the Back", whatever their nationality or generation. The "Squidgy" tape, however, was a curious case indeed - an intimate recorded mobile phone conversation between her Di-ness and 'friend' James Gilbey, which an amateur radio ham apparently managed to catch on the airwaves as it happened. Or so it seemed. Subsequent investigations proved that far from being live on the air, the telephone conversation was rebroadcast several times over in the hope of catching someone's attention, which pointed towards darker forces afoot at Buckingham Palace and (possibly) within MI5. Various users of Wikipedia do a sterling job of picking the incident to pieces
here.
It was Diana's misfortune to have such a conversation right at a point in time where a lot of techno and Dance music still had dangerous, edgy connotations in the mainstream media, and the idea of free parties (or 'raves') were still fresh in the brains of tabloid hacks. The sampling frenzy numerous DJs and producers embarked upon in search of a hit seemed never ending, and a new angle was always vital - especially one that gained the artist free press. Bear in mind that many of these sample-heavy efforts would never have picked up radio airplay without becoming hits first, and were sometimes a bit too clunky and gimmicky to be taken seriously in clubland, a place where opportunistic tomfoolery was often frowned upon. Therefore, whilst it might seem strange that somebody would have taken Diana's misfortune and tacked a techno beat on to it now - especially in the light of her subsequent death - it was something you would have placed money on at the time. What better way for some more naughty 'ravers' to find their way into the disapproving tabloid press?
In the event, this didn't sell. Special premium rate phonelines were set up by "The Sun" newspaper so people could listen to Diana having a private conversation, so anyone desperate to hear her chat could do so without feeling the urge to dance at the same time. In the end, the tabloid press were far more shocking and business-minded than the people on E - who ever would have thought? This sure as hell wasn't going to get played on the Johnny Beerling era Radio One, and whilst it did pick up some club spins, it clearly didn't get enough attention to actually shift the necessary units. When I found a seven inch copy (yes, these do exist, contrary to other Internet rumours) in a second-hand store in Reykjavik, my brain jangled with the long-buried memory of the track's existence. A flop which gathered about a week's worth of press attention before promptly being buried again, it was an easy thing to manage to forget.
Strangely though, even now (or perhaps especially now) it's hard not to be impressed by the record's cheek. Not since The Sex Pistol's "God Save The Queen" had something with its designs on the charts so brazenly mocked a member of the Royal Family, and in actual fact, behind the slightly basic construction of the record lie some slightly chilling effects. It's like hearing a private phone conversation cutting into a pirate radio broadcast, fizzing and fuzzing in and out of coherency. Whether that was the intentional effect or not is a moot point, but something about it seems disquieting and gently uncomfortable rather than outright shocking or funny.
As for Princess Diana herself, she never did have a hit single, perhaps making her the most famous person never to have a smash, and not The Grumbleweeds as I previously stated. I'm also aware that by posting this up here for public consumption I'm leaving myself open to all manner of Royalist oddballs surfing in from Google, and things may turn sour. Therefore, for the benefit of anyone spoiling for a fight about whether this record is in bad taste or not, I may as well declare my general indifference - meaning I won't be much fun to have a ruck with. What's done is done, and nobody at the time of this release knew Diana was going to meet a tragic end, therefore I present it to you as a very odd slice of recording history rather than a snigger-fest at the dead lady's expense.
Still, though - troubled, paranoid and lonely the woman may have been, but surely there were far worthier candidates for everyone's concerns and affection? I'd like to think that even she would have agreed with that point, even if she probably wouldn't have been seen dead on the dancefloor while this played.