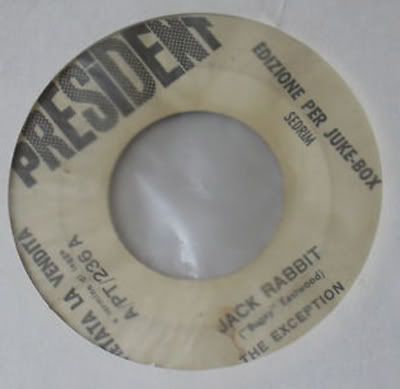 Label: President
Year of Release: 1969
Birmingham based band The Exception are probably best known amongst aficionados of sixties beat for
"The Eagle Flies On Friday
" (quite unbelievably, there is a clip of The Exception live if you click on the link) an aggressive, snarling piece of work about threatening bosses with baseball bats which appeared on the "Chocolate Soup for Diabetics" compliation. Their other output remains rather less well explored, and perhaps not without good reason - whilst they were capable of cooking a mean enough groove, not much of their work truly excels.
Their penultimate single "Jack Rabbit" is a neat enough piece of pop, however, which is snappy, to the point and urgent, getting its business over and done with in under two minutes. For my taste, the B-side "Keep The Motor Running" is preferable as a really neat piece of mellow, bluesy work which manages to be moody and rock and roll in what must have seemed like a very retro way by 1969. I won't pretend that either side is an essential piece of work, but the sound does pre-empt a lot of early seventies pop, with the flip almost (but not quite) coming close to Mungo Jerry territory.
Members Dave Pegg and Roger Hill later became members of Fairport Convention, with the whereabouts of lead singer Bugsy Eastwood being less well known.