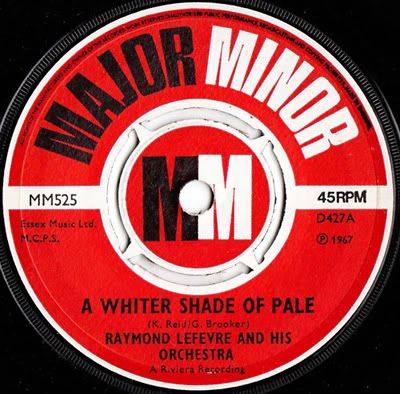 Label: Major Minor
Year of Release: 1967
I'm an enormous fan of Raymond Lefevre which regular readers will already know, as I gushed on at some length about the man's skills as an arranger
here
. The subject of that entry, "Soul Coaxing", is undoubtedly his finest moment and the one most people would choose to highlight. I'm not going to argue with that, but his strengths don't really stop there.
"A Whiter Shade of Pale" is a single which has perhaps become over-familiar, being one of the most played records of all time on the global airwaves. Lefevre's version highlights the song's strengths and even edits it down, resisting the temptation to use the orchestra to make an epic record sound in some way more "classical". In this context, it perversely ends up sounding more concise and "pop" than the original whilst retaining its swooning, delirious feel, at times sounding melodramatic where the Harum's version frequently sounded self-consciously mysterious. For me, the absence of the slightly overblown and surreal lyrics is also a plus point, although I recognise millions of people will disagree with me.
There's really not much more to add here - as many readers will despise this as like it, but for me this is supremely well realised easy listening music which barely puts a foot wrong in its translation.
King Curtis also cut a version of "Whiter Shade of Pale" which was eventually used in the soundtrack of "Withnail and I", and for me that's also a worthy interpretation - and may be another entry for another day.
Sorry for the pops and clicks, by the way - this isn't a perfect copy of the single.