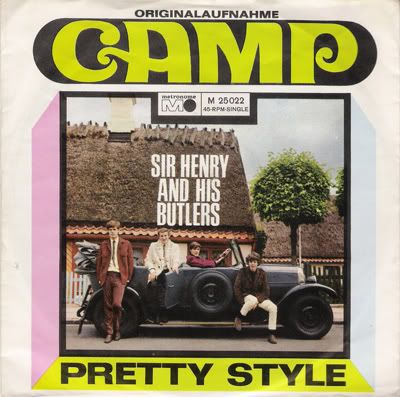 Label: Metronome
Year of Release: 1967
This is arguably one of the more baffling singles to be issued during the late sixties, and Lord knows there were plenty of other contenders. The A-side "Camp" is a proto-Lieutenant Pigeon instrumental consisting of kazoos and a barrel organ, shouts and cheers, and little which would suggest it was going to storm the charts. It's a clown car of a record, all wonky wheels and dodgy brakes. As a piece of incidental music for the final cheerful item on a regional news programme it might pass, but as an A-side? Never.
This does absolutely nothing to prepare you for the flip, which is an elongated piece of psychedelia with droning sitars, guitar riffage reminiscent of Joe Cocker's version of "A Little Help From My Friends", and some very dramatic, hollering vocals about nothing discernible. It's absurdly compelling in the way that the most freakish American psych underground tracks are, and the fact that the band are from Copenhagen is a red herring to say the least.
Apparently Sir Henry and His Butlers were quite a draw in their home country of Denmark for a period of time, but their other releases are considerably more pop orientated and not at all similar to this downright absurd piece of work. When sixties pop acts switched to the darker side of psych overnight, it was usually indicative of cynical marketing rather than the use of hallucinogens - in this case, however, I genuinely wouldn't be surprised to learn that somebody had spiked the band's drinks before the recording session (although the "Sweet Floral Albion" e-zine did suggest that this track was "contrived" when they covered it themselves some years ago. I'm not so sure).