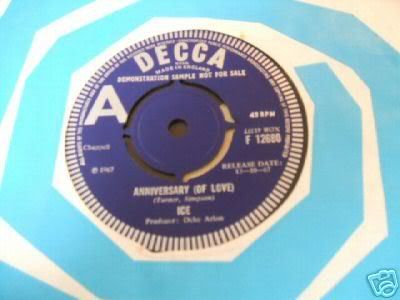 Artist: Ice
Single: Anniversary of Love/ So Many Times
Label: Decca
Year of Issue: 1967
During the period Procol Harum's "Whiter Shade of Pale" cast its foggy veil over the charts, a lot of people could have been forgiven for thinking that not only had the band had the first of many number ones, but that also they'd created a new "sound". The church organ noises, surreal lyrics, soulful vocals, and classical pretentions were quite an original cocktail at the time.
In the wake of that disc emerged numerous artists with their own particular take on poetic organ driven balladry, among them Rupert's People, Felius Andromeda, The Jason Crest (who will almost certainly get a blog entry of their own at some point), and to a certain extent Shy Limbs (no, I'm not making this up). The fact that none of these bands have an entry in the Guinness Book of British Hit Singles probably has everything to do with why nobody coined a genre name for this particular type of noise. Why bother, when you could barely fill a C60 blank cassette with examples, and nobody was buying them, and most of the bands were dropped by their labels after a couple of singles? It would seem that "Whiter Shade of Pale" had tickled everyone's curiosity enough, and they really didn't need to purchase any similar items. Even Procol Harum's career shifted into the cult fringes quite quickly, and those follow up number ones never did materialize.
Whilst I'd hate to lump Sussex University students-come-Decca signings
Ice
in with the other Procol wannabes, there's little question that they'd paid some attention to their recordings. Their debut single "Anniversary of Love" follows a similar pattern, an organ riff dominating the track, and some very chilled out vocals coming forth from the lead singer. Whilst it's often sniffed at as being the poorer of the band's two singles, I happen to think it's actually a marvelous piece of work. It's certainly more "pop" than "psychedelic", but it's astonishingly catchy, with some carefully constructed eerie backing vocals, and a brilliant organ break in the middle. It also doesn't fade out, instead coming to a genuinely effective harmonic peak, the sort that makes you want to return the needle to the run-in groove again. Its flop status is quite inexplicable, but then it did have a lot of competition at the time.
Single: Ice Man/ Whisper Her Name (Maria Lane)
Label: Decca
Year of Issue: 1968
Next year's follow up "Ice Man" is a wee bit more underground than its older brother, stylistically bearing a slight resemblance to a Rick Wright penned sixties Pink Floyd track. Interesting echoing stellar guitar noises start to come into play, and the track is much more subtle, more dependant upon atmosphere to pull it through. It's a chiming, captivating wintry soundscape in places, although the fact it wasn't a hit is perhaps less of a surprise – it has all the feel of a strong album track rather than an attention-grabbing 45. Its B-side "Whisper Her Name (Maria Lane)" is another strong and interesting ballad, although not quite up there with its predecessor.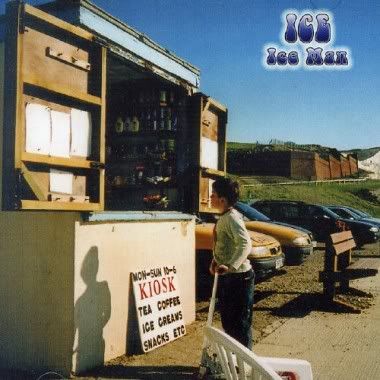 I've put both the A and B sides up for download below, although they can also be found on the compilation "Ice Man" which rounds up just about everything the band ever did whilst they were in a recording studio, including radio sessions.
And no, I don't own either of the singles on original vinyl. Copies are scarce, and they cost a small fortune to buy – but not without reason.
http://sharebee.com/898caa96
As a footnote, I suppose I should add that eventually a Procol-ish ditty did end up back in the top 40 again, we just had to wait a couple of decades for it. In my opinion at least, Crowded House's "Don't Dream It's Over" fits the bill perfectly.