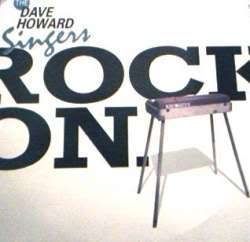 Who: The Dave Howard Singers
What: Rock On
Where: Reckless Records, Soho (RIP)
Label: Hallelujah!
Year: 1987
Cost: 2 pounds
Whilst the Dave Howard Singers sounds like the name of a Sing Something Simple styled ensemble, the reality was actually somewhat more ridiculous. In their rawest form, the band were simply Toronto citizen Dave Howard, an Acetone keyboard (with effects pedals hooked up to it), and a drum machine. On many of the recordings, that was it – there was no attempt to beef up the sound with any other instrumentation at all. You think The White Stripes are stripped back? This is as stripped back as rock music gets.
What they lacked in instrumentation they certainly made up for in firepower, however, as the sheer industrial assault of many of their singles sounded like the noise of a full four piece band revving into the red – the groans, screeches and squeals of the keyboard were surprisingly gutsy, and Howard could howl for Canada. Whilst they did do occasional absurd diversions into Bacharach styled balladry, it was when they made a racket that they became most memorable.
"Rock On"
does
feature a proper drummer (Nick Smash) and is assuredly unforgettable, whatever your opinions on the quality of it may be. An eight minute screech through David Essex's seventies hit, it apparently did not meet with the Gypsy man's approval when he found out. It turns the pop oddness of the original into an incessant, primal rock and roll beast, at times recalling The Revolting Cocks' cover versions in its style and intent.
The DHS (as they were often known) are an odd band in that they didn't want for publicity, despite seemingly having become total unknowns now. Besides the usual reviews and interviews in the NME, Sounds and Melody Maker, they also gained a slot on The Tube, and several appearances on The Chart Show – appearances which, lest we forget, plenty of better known "indie" bands from around the same time were denied. At the height of their live activity they were even offered a gig at WOMAD as an example of talent from the frozen white north, and also a show at the Canadian High Commission, which apparently baffled and frightened many of the workers there with its sheer volume.
Whilst it wasn't a hit, their follow up to "Rock On" was "Yon Yonson", a nagging, deliberately repetitive and looping piece of work which only needed a few plays to seep into the public consciousness. At my school, nobody bought a copy, but almost everyone had heard it and commented on it with expressions of utter confusion. At times it felt like one the more familiar singles of the eighties never to break the Top 100.
Their existence almost feels like a peculiar dream – until very recently, there wasn't even much evidence on the Internet of their career, but slowly the modern telecommunications beast is waking up and registering them on its radar. Last week, the Yon Yonson appearance on the Chart Show was uploaded to Youtube by somebody. A few months before that, Dave Howard launched a brilliantly designed nostalgia site for the band which really outlines their lunacy for all to see, showcasing their TV appearances, videos and press extracts (
http://www.thedhs.com/home/index.html
).
And do you know what? I was actually delighted to stumble upon "Rock On" in the reduced pile of Reckless Records. They (or he) may have worked within a very narrow template which couldn't possibly have lasted for long before ceasing to become surprising or noteworthy, but it remains significantly more entertaining and interesting than the work of many of their indie peers from the same era. I mean, who exactly could
not
be entertained by a man screaming "I'm a plastic horse!" whilst riding around on a keyboard attached to a wheelchair? Very few people, that would be my "guestimate".
Here's "Rock On":
http://sharebee.com/2da9baf2
And also, to prove it wasn't all some weird hallucination, here's the July 1987 Chart Show indie chart with the "Yon Yonson" single given the rewind and play treatment.