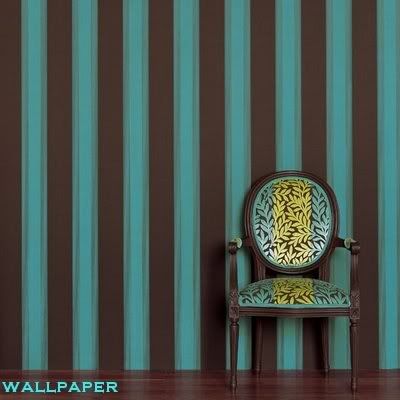 (SEPTEMBER 2012 NOTE: Sorry folks, after four-and-a-half years I've decided to let this file lapse and I won't be uploading it again anytime soon. Feel free to look at the "sleevenotes" below if you want, but please don't ask me to make this available again - it's not going to happen for the foreseeable future. Maybe, at some point in time when Spotify and its ilk get sophisticated enough and include enough goodies, we can look at creating a playlist of the songs, though...).
Welcome to the first compilation CD, "Wallpaper", a lovely (even if I do say so myself) collection of non-American psychedelia.
An entire dissertation could be written about the music industry during the late sixties, but to summarise it briefly, it's hard to understate just how chaotic and confused a lot of the major labels were at this time. A great many of the bands of the era freely admit they were often signed because the executives had little concept of which way the wind was blowing from one hour to the next. Having only just acclimatized themselves to the idea that "groups with guitars" were most definitely not "on their way out" in 1962, by late 1966 they suddenly had to get used to the fact that pop and rock music could include both music hall humour and pretentions towards high art as well. When you threw mind-expanding drugs into the mix, it was no wonder that the silver haired managers at Decca freely admitted to one artist that "if you throw enough mud at the wall, some of it will stick". An interesting A&R policy which reveals more confusion than any sort of marketing-lead savvy.
That's very fortunate for the consumer, however, and very lucky for blogs like this one, because while their eyes were off the ball, a lot of people had huge fun with the freedom they were afforded. Most of the acts included on "Wallpaper" never got to release a full length album, but instead stuck out a few singles that even now sound like imaginative and even perverse pop. At their best, they rank up there with some of the more popular works of the era, and if it hadn't been for the market being utterly flooded with so much good material might have stood a chance. At their very worst, they're still entertainingly absurd.
Whilst I'm not claiming any exclusivity with this compilation and freely admit it's more of a primer for the curious than any sort of "unearthed rarities!" effort (I really don't have the cash to buy that sort of stuff at auctions, I'm afraid, and there really can't be much "unearthed" material left anyway) I hope you enjoy it and find something here which takes you by surprise – pleasantly or otherwise.
Tracklisting and notes:
1. The Easybeats – Peculiar Hole In The Sky (Parlophone – 1969)
They had a couple of hits in Britain as well as in their native Australia, not least with the well-acknowledged classic "Friday on my Mind", but had a lot less joy with this heavily produced psychedelic effort, which might have sounded a wee bit dated by 1969.

2. The Smoke – Sydney Gill (Island – 1968)
Absolutely massive in Germany, the Smoke never managed to quite attract the same buzz in their native country. They reformed to release some glam rock styled efforts in the seventies.

3. The Nice – Diamond Hard Blue Apples of the Moon (Immediate – 1968)
The B-side of their anarchic version of Bernstein's "America", this is surprisingly straightforward in comparison, sounding for all the world like an obscure Super Furry Animals out-take.

4. Pregnant Insomnia – Wallpaper (Direction – 1967)
Utterly ridiculous love song to a particularly pleasing wallpaper design, this single is proof positive that out-on-a-limb surreal pop music was coming out of Ireland way before The Frank and Walters… released in December, this wasn't a festive hit.

5. The Tages – Fuzzy Patterns (Odeon – 1967)
The Tages have already had an entry on this blog, of course. By this release, they'd moved on from singing about pregnant teenage girls and instead turned their attention to fuzzy patterns that "make you distracted". Good work, chaps.

6. Boeing Duveen and the Beautiful Soup – Jabberwock (Parlophone – 1968)
A Middle Earth club favourite which was regularly spun by John Peel, this wouldn't have sounded horribly out of place on "Piper at the Gates of Dawn". Boeing Duveen, incidentally, was a doctor by trade. Beee-waaare…

7. Peter Cook and Dudley Moore – Bedazzled (Decca – 1967)
aka Drimble Wedge and the Vegetations, Peter Cook's band in the film "Bedazzled". An excellent parody of the more way-out music of the period, this is still played in many psychedelic clubs to this day. Chris Morris has a way to go before his musical parodies achieve the same thing.

8. Caleb – Baby Your Phrasing Is Bad (Philips – 1967)
Caleb Quaye (Finlay's father) managed to record this one-off single in between bits of session work. A heavily phased piece about poor pronunciation, clearly the record buying public didn't feel as strongly about the topic as he did.

9. The Moles – We Are The Moles (Parlophone – 1968)
Aka Portsmouth-based two hit wonders Simon Dupree and The Big Sound. The Moles were the band in a psychedelic disguise, which probably inspired XTC to invent their alter-egos The Dukes of Stratosphear and record the psychedelic track "Mole From The Ministry" in 1985. Apparently Simon Dupree and co wanted the public to think this was the Beatles masquerading under another name, until Syd Barrett let the truth slip in an interview.

10. July – Friendly Man (Major Minor – 1969)
The band insist that this song isn't about paedophelia, just about "an eccentric local man we used to know". However, with lyrics like "friendly man, look but don't touch" and "mothers say stay away far as you can, friend-er-lee man", they were treading a fine line – so fine you can probably only see it under a microscope, in fact. If this were issued now, The Daily Mail would probably run a front page story about it.

11. Excelsior Spring – It (Instant – 1969)
Very obscure, short and sweet track. The band's identity has never been established, but they're definitely not Colin Moulding and XTC in their "Skylarking" phase, even if it does sound a tiny bit like it. This was issued on the Immediate subsidiary label Instant.

12. Arzachel – Garden of Earthly Delights (Evolution – 1969)
Absurd early Steve Hillage curio which is seemingly half baroque, half early Floyd spacerock.

13. Kes Wyndham – Broken Bicycle (Pye – 1971)
Flann O'Brien inspired folk track which, to be fair, isn't particularly psychedelic, but certainly as unusual as much of the period's work.

14. The Aerovons – World of You (Parlophone – 1969)
Brilliant piece of Abbey Road orchestral pop from a bunch of ex-pat teenage Americans who demanded to record their album in Britain to be near the Beatles and their production team. It does show – but the end result is impressive enough for all the obvious influences.

15. Nimrod – The Bird (Mercury – 1969)
The odd glimmer of glam rock shines through this track, although one of the members of Nimrod – Mick Jones- would bypass all that nonsense to become a member of Foreigner. The dolt.

16. The Peep Show – Mazy (Polydor – 1967)
A UFO club favourite, Mazy is a floaty and disorientating piece of half-asleep psychedelia. Stay off the Mandrax, kids. The Peep Show were from Birmingham and generally specialized in much more folky fare. This is the B-side of "Your Servant Stephen", a track about an accidental pregnancy which was panned by Derek Jacobs on Juke Box Jury for its subject matter.

17. Apple – Buffalo Billy Can (Page One – 1968)
Brilliant psych pop track which sonically sits somewhere between Syd Barrett's "Octopus" and The Pastels. Loose as hell, but continually interesting in a slightly fey way across its three minutes.

18. Kaleidoscope – Snapdragon (Fontana – 1969)
Huge things were expected of Kaleidoscope, so much that their record label let them record three albums, but it was all for nought. Plenty of other information is available elsewhere on the web, but enjoy this heavily swirling pop track whilst you're reading it.

19. Sub – Ma Mari Huana (Rex – 1969)
A full on freak out from a very obscure Munich based band of whom little is known. Unless you can tell me, of course.

20. The Flies – House of Love (Decca – 1967)
The Flies threw objects at Pink Floyd at a Roundhouse gig for "selling out", and were probably better known for that one act than any of their singles. "House of Love" is a spittle-ridden piece of moody mod-psychedelia with a neat groove which wouldn't actually have sounded out of place at the height of the baggy movement. It's also a damn sight more commercial than The Floyd's material of the same period. The cads.

21. The Tickle – Good Evening (Regal Zonophone – 1968)
Effects-laden Beatlesey pop. This Hull band apparently all tried having blonde Boris Johnson haircuts at one early point in their careers, which may single handedly account for their lack of success.

22. Blossom Toes – Telegram Tuesday (Marmalade – 1967)
Not as funny as the Bonzo Dog Band when they were trying to be, but generally having the best tunes, The Blossom Toes were a fantastic music hall/ vaudeville-inspired psychedelic act who released one genuinely brilliant album in "We Are Ever So Clean". Telegram Tuesday is taken from that album, and is a piece of joyous, chiming pop.

23. Jackpots – Jack in the Box (Sonet – 1969)
This almost sounds like Mika having an LSD moment in a recording studio. Brilliant. I'd always wondered what that might sound like, now you too can hear it without breaking the law and slipping something in his drink. This was a sizeable continental hit, but didn't do the business in the UK.

24. Argosy – Imagine (DJM – 1969)
A pre-fame Elton John and Roger Hodgson out of Supertramp join forces with Caleb Quaye (see track 8) to produce a happy hippy tune. It's rather laboured with its references to pixies and "corduroy toadstools" on the ceiling, but how often do you get the chance to hear Roger Hodgson sing about this sort of thing? Consider yourself treated. Or not, if you feel that way about it. Just don't call it a "guilty pleasure", for f__k's sake.

25. Fruit Machine – The Wall (Spark – 1968)
A deeply world weary yet excellent piece of orchestral hippy pop. The Fruit Machine were a bunch of teenagers from London who put a few singles out ("worrying our parents") before disappearing into the real world as adults.

26. The Pretty Things – Parachute (Columbia – 1969)
The title track of their follow-up album to "SF Sorrow is Born", this is an oft-overlooked piece of tranquil Norman Smith produced psychedelia with a somewhat unexpected ending.

27. The Moles – We Are The Moles (Part Two) (Parlophone – 1968)
And we say "Goodnight Children Everywhere" as Simon Dupree and The Big Sound sing us to bed. Don't forget to create some stoned applause on your way upstairs.