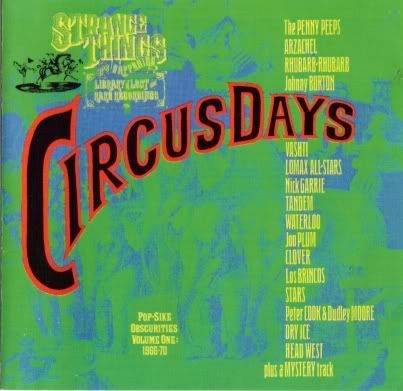 Label: Bam Caruso
Year of Release: 1998
Compilation time again, folks... although when it's a compilation like this one, I need not feel guilty about the slight lack of personal effort on my part.
You see, Circus Days was a project by the editors of the sixties fanzine "Strange Things Are Happening", and they dug up for everybody's pleasure obscure acetates, some of which had apparently never seen the light of day anywhere before. For the most part, these "popsike" tracks explore the moments when psychedelia bled into rather Denmark Street sounding tunes with one eye on the charts - there are no equivalents to "See Emily Play" on the CD, then, and certainly no examples of freaked-out improv numbers, but plenty of peppy tracks with frequently faintly absurd lyrical content. Some of the inclusions like Steve Hillage and The Wire Machine don't quite fit their plans, but on the whole it's a thematically coherent effort.
Among the best on offer here are Blonde on Blonde's fantastic, blissed out version of the Simon Dupree and The Big Sound cast-off "Castles in the Sky", Head West's deeply lethargic and moody "Someday" (which Blur's comeback single "Out of Time" always faintly reminded me of, despite the fact that tune-wise the two have little in common), Nimrod's proto-glam "The Bird", a fairly early Vashti Bunyan appearance before her whole career underwent a giant resurrection, and The Fingers slightly skewed pop. I'm not even going to bother to add how fantastic Cook and Moore's "Bedazzled" is - but it looks as if I just did.
Rather unfortunately, the "Circus Days" series of compilations appeared to waste most of their good material on the first two volumes, and subsequent issues declined in quality to the extent that Volume Six is hardly worth owning. Additionally, the series lost credibility amongst many sixties buffs when it transpired that a lot of the sleeve credits were just plain
wrong
. For example, the original compilers credited an unknown sixties act known as Clover for "Ice Cream Man" and another act known as Stars for "Auntie Annies Place". In reality, both recordings were by a studio-bound project called Kidrock*, and the purpose of their work was not to create psychedelic pop but make records which appealed to the pre-secondary school market. It's an easy mistake to make, certainly - a lot of psychedelic inspired stuff is decidedly childlike - but when you add the fact that they didn't even record the tracks until well into the seventies, a lot of red faces occurred. Perhaps it should be more shameful to admit that even though as a grown man I'm not supposed to enjoy either tune, I'm afraid I actually like both...
Additionally, the Pure Pop blog (link in the left hand menu) recently revealed that Johnny Burton's "Polevault Man" was a 1972 release rather than a 1969 one as stated on the sleeve of "Circus Days". There's a distinct sense that the compilers were scrabbling around a bunch of scratchy old unlabelled acetates and indulging in an enormous amount of guesswork about the artists and eras, then printing their guesses on the sleeves rather than admit to their ignorance. This is a shame, as ultimately it wouldn't have detracted from the quality of the material offered one iota, and it's doubtful anyone would have cared much about a few more "Mystery Artist" credits. After all, who could argue with a record which features a song about somebody falling to their death at a funfair in Great Yarmouth (Nick Garrie's "Wheel of Fortune")? Not I for one - take "New York Mining Disaster" and shove it up your collective arses, Gibb brothers.
Track listing:
1. Kidrock - Ice Cream Man
2. Los Brincos - Nobody Wants You Now
3. Rhubarb Rhubarb - Moneylender
4. Peter Cook and Dudley Moore - Bedazzled
5. Lomax All Stars - Honey Machine
6. Kidrock - Auntie Annie's Place
7. Head West - Someday
8. Waterloo - Why May I Not Know
9. Johnny Burton - Polevault Man
10. Tandem - Shapes and Shadows
11. Penny Peeps - I See The Morning
12. Jon Plum - Alice
13. Nick Garrie - Wheel of Fortune
14. Dry Ice - Running to the Convent
15. Arzachel (aka Steve Hillage and Friends) - Garden of Earthly Delights
16. Vashti - I'd Like To Walk Around In Your Mind**
17. Mystery Track
18. Green Scarab - Psychedelic Wilderness
19. Fruit Machine - Follow Me
20. Orange Peel - I Got No Time
21. Smoke - Dreams of Dreams
22. Nimrod - The Bird
23. Fingers - Circus With A Female Clown
24. Blonde on Blonde - Castles in the Sky
25. The Wire Machine - Doves (1944)
26. The Eggy - You're Still Mine
27. Blonde on Blonde - Circles
Part One:
http://sharebee.com/2e75aa64
Part Two:
http://sharebee.com/fc21159e
* Whilst I had a Soulseek account, Kidrock would regularly get download after download from fans of the American star. They never did respond to tell me precisely what they thought of the song, but I do hope they enjoyed it.

** Vashti Bunyan has gone on record as saying that she doesn't know how anybody obtained this acetate, since only one copy was ever pressed and then given to an elderly lady Vashti stayed with on her travels. One can only assume that it then worked its way back into the public domain after the old dear shuffled off this mortal coil - or perhaps it was an unwanted gift. Neither option is a particularly pleasant thought.
For more information about the compilations and "Strange Things", go here:
http://www.marmalade-skies.co.uk/strange.htm