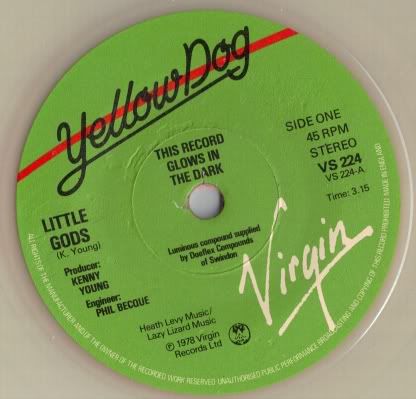 Label: Virgin
Year of Release: 1978
Of all the songwriters I've bothered to feature on L&TB, Kenny Young is probably one of the most criminally under-referenced despite his success rate. Most readers will be only too aware of his back catalogue when the names of his tracks are tripped off the tongue - among his successes are the evergreen classic "Under the Boardwalk", and besides that there's "Captain of Your Ship", "Ai No Corrida", and the rather ignored (by the standards of most top ten hits)
"Just One More Night"
by Yellow Dog. Lovers of popsike will also know him as the man responsible for Blue Yoghurt's "Lydia", or perhaps San Francisco Earthquake's "Fairy Tales Can Come True" which I featured on
"Pictures of Marshmallow Men"
. He's surely due some sort of career round-up compilation, but nobody seems to be particularly embracing that idea with any enthusiasm.
If we're talking about longevity which crosses several decades, what's noticeable about most sixties songwriters and session men is that diversity of approach was often their only means of survival. Whilst the bands of that era may have huffed and puffed and refused to dilute their "sound, man", songwriters relying on hits to pay the mortgage (and without a troupe of fans to keep them clothed) mixed and matched styles to suit the times. So it proved with Kenny Young, who by the late seventies was incredibly quick off the bat with a distinctly New Wave sound for his project Yellow Dog, ostensibly a studio-bound concoction of session men with him on lead vocals.
Nobody was fooled, of course - do you really think those beards would have been accepted by the punks of the time? - but one hit was enjoyed by the makeshift band before diminishing returns set in. Follow-up single "Wait Until Midnight" only got to number 54, and "Little Gods" failed to chart at all. That's a pity, since for my money this is the most interesting record of the lot, perhaps capturing the jerky quirkiness of New Wave rather too well for its own good, sounding marginally more like an early XTC B-side or an unheard track by The Vapors than a potential smash hit. Many music industry types and bands were quick to write off the punk movement as a pathetic fad, but I can sense a certain degree of affection for the New Wave genre seeping out of these grooves, and if forced to do a blind guess, you'd never realise a seasoned Brill Building songwriter was behind it.
You can read an interview with Kenny Young
here
, which really hammers home the sheer quantity of recordings he's been behind. That said, I'd quite like to forget I ever heard the B-side to this particular single "Fat Johnny", which is yet another aggravating example of a songwriter filling up the flip by attempting to be some sort of parodying stand-up comedian. Save the jokes and the humour for the ladies at the bar, please.
And yes, the record really does glow in the dark, too. Once when my bedside lamp was broken, I placed it near the door in my bedroom so I could find the exit easily in the dark if I wanted to go to the toilet at some unexpected hour. It worked, I tell you, and perhaps even prevented a drunken urine-stained pyjama type incident.