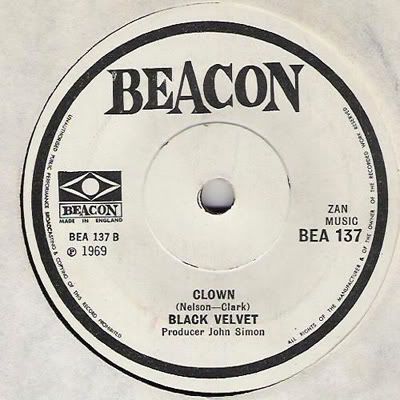 Label: Beacon
Year of Release: 1969
Right at the start of this year I uploaded
a couple of Black Velvet singles
- including the astounding "African Velvet" - and announced that I'd drawn a total blank on the band. I asked for more information, but the only answer I've received so far is from the DJ Pete Jennings who declared them to be a brilliant live act. Nobody else came forward, and thus they remain an elusive act despite the fact that a number of records of theirs were issued.
This particular one is perhaps the most unusual of them all. The A-side "Peace and Love Is The Message" is a decent enough slab of hippy-infused soul, the type of which was cropping up regularly towards the tail end of the decade. It's the flip which is beginning to attract attention for its warped and peculiar tones, however. "Clown" is a shimmering, discordant piece of psychedelia with demonic laughter, swirling organs, out-of-tune whistling, and descriptions of a "happy, smiling" clown I never want to meet in my life. Chipper and cheerful in the way that Alexei Sayle was in the introductory sequence for his "Merry Go Round" series, "Clown" is black-streaked psych with a smile on its chops and evil in its heart, more
Papa Lazarou
than Ronald McDonald (although it's a fine line).
And come on, somebody out there must know who this lot were and what became of them.