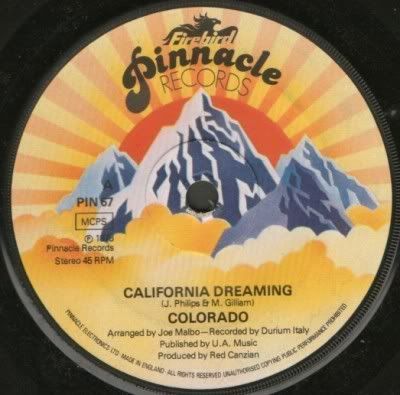 Who: Colorado
What:
California Dreaming (b/w "Space Lady Love")
Label: Pinnacle
When: 1978
Where: Music and Video Exchange, Camden High Street, London
Hot on the heels of the last "Second Hand Record Dip", Tik and Tok's eighties electronic version of "Summer in the City", comes this - a disco version of the Mamas and the Papas evergreen hit "California Dreaming". Covered by a multitude of artists over the last forty plus years, "California Dreaming" does admittedly feel like something of a cliche these days, but this at least is not a xerox copy. Instead, it attempts to shift the sound on to the seventies dancefloor.
This particular version was widely anticipated to be a hit at the time, so much so that the group were allowed to

appear on "Top of the Pops"

despite not having a Top 40 slot to their names. It made very little difference despite their best efforts, as the single stalled at number 45. Whilst this version does indeed vamp up the original with some sultry disco noises, there's something a little bit too clinical and contrived about it, and I smell the suspicious whiff of stale sweat and lager of various session musos in action under an assumed "band name" here (although I'd be happy to be proved wrong).
The flip side, however, is a lovely piece of disco dancefloor action you would have hoped somebody at the label would have had more faith in. "Space Lady Love" is full of Eurodisco and Giorgio Moroder lifts, complete with that squelching, grumbling electronic undertow which characterised so much of the output at the time. The high pitched vocals are the kind of thing The Scissor Sisters got their notebooks out for at the peak of their careers, and whilst I'd be surprised to learn that they listened to this particular B-side of a flop single, it's certainly jumping up and down and doing the splits under a very similar mirror ball.
Despite their TOTP appearance I have absolutely zero information on the band, so it's up to some other wise sage to fill in the blanks.
And... once again, please excuse the pops and clicks. I have tried to clean this audio up a bit, but the below is really the best I can do.
(Incidentally, "Left and to the Back" will be updating with mp3 entries on Monday and Thursday mornings as of this entry - random news and housekeeping updates notwithstanding, of course. I sincerely doubt that even the most regular readers will have noticed the Saturday/ Wednesday update schedule the blog had dropped into, but shifting the timings around a little makes more sense as it leaves me able to write new entries at the weekend then queue them for release. You don't need to know this, and I don't need to announce it, but... erm... Oh, whatever).