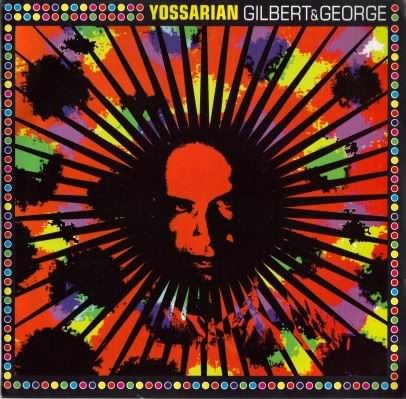 Label: Satellite
Year of Release: 1998
You've got to move fast to catch Gilbert and George, they're fit old geezers...
Somewhat strangely, "Whatever happened to Soho?" is a question I've encountered on the Interweb more times than I ever really expected to. I'm not referring to the region of London, either, but the one hit wonders who sampled the Smiths "How Soon is Now?" on 1990's "Hippychick". It seems to be appreciated much more in retrospect than it was at the time - now the sneers of "cheap cash in!" appear to have given way to an appreciation of the single.
One small part of the puzzle can certainly be solved via this blog entry, because band member Tim London moved on to this particularly bizarre electronic project Yossarian. Unlike Soho, it was an utterly hitless and frankly rather unusual venture which slipped out largely unnoticed ten years ago, and you'd still be hard pressed to find anyone online who cares.
That's not to say that the general public are necessarily always right, of course, for whilst I find "Hippy Chick" to be a faintly irritating piece of fluff, "Gilbert and George" has wit, originality, and sonic scariness to spare. The tribute to the notorious British artists is lyrically a bit baffling, but somehow pleasing all the same with its carefully phrased but randomly tossed around references to "slightly scuffed shoes", men dressed like Mr Chips, and being stalked by the artists in question down London streets (an image which is probably meant to be worrying, but I find quite pleasing for some reason). It is backed up by primitive electronic noises, deep, stomach churning groans and oscillating whoops, and a basic, lo fi backbeat. It screams "home made", but still sounds more adventurous than most big league productions.
It's also a double A side, and the other "A" on offer here, "They Are Naked and They Move", is five minutes of Krautrock rhythms, guitar freakouts and retro space age noises. It's not as good as its partner, but certainly dominates the room impressively as soon as you slip the needle into the grooves.
http://sharebee.com/5f54869d
And if you're still wondering what happened to Soho after "Hippychick", look here for something I uploaded last year:
They quickly shed members and became Oosh... but please don't ask me what the subsequent records were like, because I've never seen or heard a single one.